Instruction – International Usage
Before you Travel Overseas: Allow your Cards' Magnetic Stripe for Overseas Use
---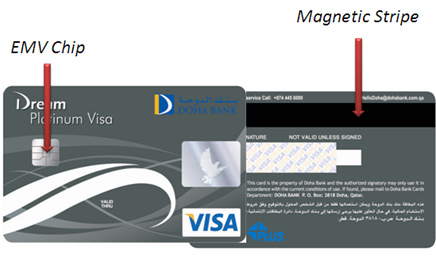 In line with the industry's measures to enhance Cards' security, the magnetic stripe on all Doha Bank Credit, Debit (ATM) and Prepaid cards will be disabled for overseas use on 01 May 2014. With the Cards' magnetic stripe disabled for overseas use, the risk of unauthorized transactions being effected on the Card will be reduced.
The following overseas functions will be affected when the Cards' magnetic stripe is disabled on 01 May 2014
Cash withdrawals from ATM's overseas
Magnetic stripe (swipe) transactions at retailers overseas
The data on EMV chip is protected by encryption. As such, the EMV chip (if any) on all cards remains active for local and overseas transactions. However, as the EMV chip for transaction processing is not widely accepted at all destinations, you may wish to allow the magnetic stripe of your Card(s) for overseas use before travelling.
For your convenience, should you wish to allow overseas use on your cards' magnetic stripe, please call our Call Center at 4445-6000
Note:
Doha Bank's retail, commercial and corporate products are granted at our sole discretion and are subject to the Bank's terms, conditions and acceptance.