Doha Pay
---
Doha Pay brings new dimension to your wallet! Enjoy quick, safe, and seamless payments by adding your Doha Bank Credit or Debit Cards to your Doha Pay wallet.
How to Register
Download Doha Pay App from the Apple Store or the Google Play Store.
Step 1: Enter valid Qatari Mobile Number and accept Terms and Condition.
Step 2: Enter the received verification code.
Step 3: Enter your Personal Information.
Step 4: Set your unique Wallet PIN.
Step 4i: Wallet PIN has been setup successfully.
Step 5: Set a preferred login method (Fingerprint / Face ID).
Step 6: Now, you are ready to add Cards to your wallet.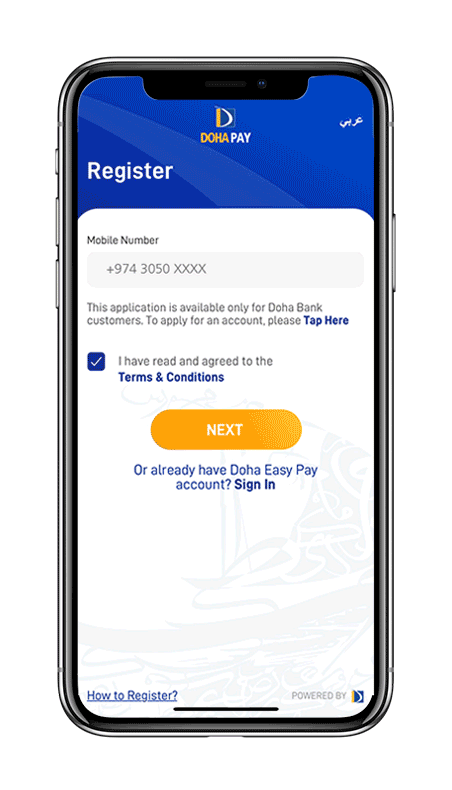 QR Code Payments
Doha Pay enables the user to perform quick, safe, and seamless payments for their retail purchases by simply scanning the QR Code.
Step 1: Select Scan To Pay feature available on the home screen.
Step 2: Scan the QR code presented at the merchant's outlet.
Step 3: View merchant details and the amount.
Step 4: If needed, you can change the payment card.
Step 5: Once all the details are confirmed, proceed with approving the payment.
Note: You will receive a successful payment notification.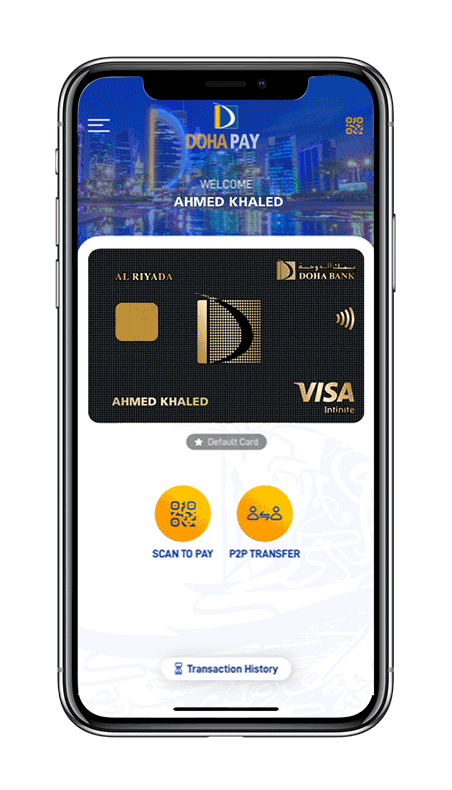 Person to Person Transfer (P2P Transfer)
Doha Pay enables the users to make fund transfers instantly. To do so, the sender and beneficiary should link their Doha Bank Debit Card to Doha Pay wallet.
Step 1 : You need to select "P2P Transfer" feature from the home screen.
Step 2 i: Select your Doha Bank Debit Card.
Step 2 ii: You can transfer funds in different ways: a – Enter a valid Qatari Mobile Number of the beneficiary, OR
b – Choose the beneficiary from the contact list, OR
c – Click on the QR Code icon to import the QR Code image of the beneficiary from your device Photo Gallery – OR
d – Scan the QR Code of the beneficiary when available in proximity.
Step 3: View the details entered then click Send.
Step 4: You need to confirm the amount and the beneficiary name then click Yes.
Note: You will receive a successful transaction notification.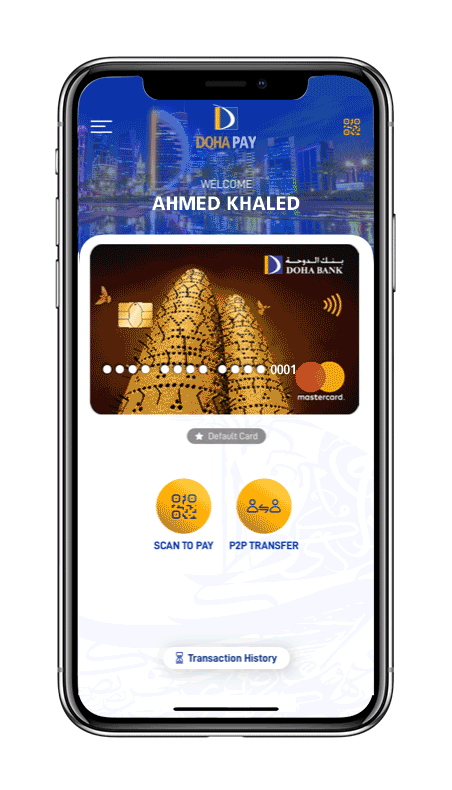 Download Your App Now
Note:
Doha Bank's retail, commercial and corporate products are granted at our sole discretion and are subject to the Bank's terms, conditions and acceptance.