Al Dana Winners
---
Most generous and most rewarding savings program is stepping into its 19th consecutive year with more benefits and new features.
Al Dana Third Draw
I. PRIZE CATEGORY: Monthly
Winner for QAR. 50,000/-
GULNAZ BEGUM GUEL
SADIQ HUSSAIN GHOUSE
II. PRIZE CATEGORY: Weekly
Winners for QAR. 10,000/-
ABDUL KHALEEL AZIZ SAHEB
ABDULREDA ABDULLA  A MASHHADI
AHMED ALSAYED
ALAA WANNOUS
KIRITHARAN JEYABALASINGAM
LAZIMA THASNEEM
MOHAMMED AHMED AL MOHANNADI
RAJESHWAR RAMNARESH PRASAD
RASHID MOHAMED R AL KHATER
SAKKEER MALIYAKKAL
III. PRIZE CATEGORY: Daily
Winners for QAR. 5,000/-
ABDUL RASHEED P VALAPPIL  
ABDULLA N ALTHANI
AHMED ESSA AHMED M AL JABER
AHMED ISSA ALMAADEED
AISHA A RAHMAN N A AL OBAIDAN
AISHA SALMEEN O A SHAMLAN
ALAA MAHFOUZ
ALINA  SEMJONOVA
ANDY DIPASUPIL & MARY ANN (J/Ac)
ANVER SALIH KARIMBANAKKAL
AREF MOHAMAD AYCHE
ASHARAF  PARIYARATHU
AYMAN MUWAFFAQ Y GHOSHEH
BANNA A RAHMAN A ALABDULJABBAR
BINDU SAJITH CHEERAN
DILIP VERMA AND NIDHI VERMA
FAHAD ANIS
FATHIMA NIZLIYA
FATIMA ISSA H M AL SHERAWI
FATMA  Y FAKHROO
HASEEF PULLARA VALAPPIL
HESHAM SAYED I ABDELDAYEM
HUSSEIN A H MAHMOUD
IBRAHIM A RAHMAN M  AL BAKER
INDU SUDHAKARAN MENON
ISMAYEEL KORUMBATH
IYPE PUTHUVAPADIKAL SAMUEL
JABOR SAOUD A RAHMAN AL THANI
JAYASHANKAR MADHAVAN PILLAI
JWAHER ALI ALTHANI
KHATOUN ALI AL SHARSHANI
KOCHUTHRESIA SALU O RAPPI
KRISHNA KUMAR BHAGAVATULA
MAJED HAMAD H M AL DOSARI
MARYAM RASHID A AL MANNAI
MD KAMAL UDDIN
MINAKSHI MIGLANI
MOHAMAD ANEES CHANGANATH
MOHAMED JABIR A AL SULAITI
MOHAMMAD YACOUB ISHAQ BULBUL
MOHAMMED REZA HEKMAT
MOIDU PEETTAYIL
MR TOMY KUPPATHANATH VARKEY
NAINA MOHAMED HAMEED SULTHAN
RABEE  A ALHARIRI
RAFEEK MABROUK H A ELNAGGAR
RAHULBHAI DHIRAJLAL SAVALIYA
RAJA SEKHAR CHADALAVADA
SABAH ABBAS
SALEM SAAD M A ALSHAMALI
SANGEETA SEETHARAMAN
SARA KHALID KHALIFA AL THANI
SELVARAJ ELANGOVAN
SHAHD MOHAMMED AL-NAIMI
SHAHEEN ALI MAHMOUD
SULTAN ABDULLA K A AL SOWAIDI
THOMAS ATTANIYIL JOSEPH
VIKRAM LIYA
WAFAA AHMED & MOUAFFAK ALARAJ (J/Ac)
WARASA MABIA GHOLOUM LARI
ZAKARIA MOHAMED ALI ABUJUBARA
ZIAD NABIL ABDULRAHIM ABUISSA
IV. PRIZE CATEGORY: Ladies Draws
Winners for QAR. 10,000/-
HALA ZAYED
SHOUQ FAHAD S MAJED ALRUMAIHI
V. PRIZE CATEGORY: Young Saver Draws
Winners for QAR. 10,000/-
HAMAD JABOR KHAMIS A AL HAJRI
SHIZA ZAINAB A H EDAKKAVIL
VI. PRIZE CATEGORY: Senior Citizen Draws
Winners for QAR. 10,000/-
E J RAVISANKAR 
FAZAL AHMED IBRAHIM MODAK
Al Dana Second Draw
I. PRIZE CATEGORY: Monthly
Winner for QAR. 50,000/-
MAI ABDULLA  AL NAAMA
SHERIF RAMADAN MOHAMED
II. PRIZE CATEGORY: Weekly
Winners for QAR. 10,000/-
ABEER IZELDIN ELSAIGH
ARUN NAGESH RAO
ASSAAD ALSHAKIF
FALEH FAHAD JASSIM AL THANI
HUDA ESSA AL SADA
KURUNGOT KASSIM
SHUNGEED KOMMOTH ABOOBACKER
SRIVIDYA RICHARD
III. PRIZE CATEGORY: Daily
Winners for QAR. 5,000/-
A RAHMAN SAOUD ARAHMAN ALTHANI
ABDUL AZIM ABDUL WAHAB HUSSAIN
ABDULRAHMAN MOHD AL-MEER
ABUBAKER MOHD ALSYARI
AHAMED FAHATH ABDUL GAFOOR
AISHA AHMED AL OBAIDAN
AL ANOUD ALI AL HAIL
ALANOUD ALI  AL HENZAB
AMBREEN SALEH
AMNA MOHAMED ABDULLA OUN
ASHLEY HENRY DSOUZA
AYOUB MARC IMAD AOUN
BADRIYA ABDULLA KAHONI
CHRISTAL NICKALSON ALPHONSE
EDAKKAVIL ABDUL HAMEED
EISA ABDULLA AL SHARSHANI
FAIZA MUKTHAR KALATHIL
FATIMA SALMAN AL YACOUB
FEBY ROSALINA TUBIANTONO
HANDI MERGNI FARAH OSMAN
HEBA ALI FARHOUD
KALLUPARAMBIL BABURAJAN VAVA
KASANA RABO ALI
KATTUKKARAN MATHEW FRANCIS
KEEADI CHERIYA MOIDU
KISHORE KUMAR SOUNDARA PANDIAN
LAYLA RAMADAN ASHAR
MARIAM HUSSAIN AL SAYIEGH
RAJIV AGARWAL
GHAITH BUTRUS HABIB
NAELA JASSIM AL THANI
NAFEESA FIRDOUS
NAMITHA MOHAN PUTHARIKAL
NARGIS RAZA OTHO
OMIMA ABDELRHMAN AWADH
ONDER CANGUVEN
POULOSE PARAYIL MATHEW
RASHED ALI JABOR AL SULAITI
ROFAIDA ABDULLA AL-ESMAIL
RONALDO BALOT NILO
RONNIE ARELLANO LAROYA
RUFIDA ABDUL MUNEESH
SAAD MUBARAK AL KUWARI
SABU KRISHNAN SHANMUGHAM
SAUD MOHAMED AL THANI
SIGY MATHEW CHEERAMVELIL
SORINA IONELA OBROCEA
SURESH KUMAR KARUMURI
SYED FAISAL PEER
TAFAZZUL HUSAIN
TARIK HASSAN GESMALLA ELWILE
THANKARAJ MUTHUSAMY
THASLEENA PUTHIYA PURAYIL
TINA MIRANDA
TRICHUR RANGANATHAN PRIYA
YOUSEF MOHD ALJABIR
YOUSUF YACOUB ASHEER
KISHOR KUMAR SUBASH CHANDRAN
MARIAM MOHD ALKHAL
MOZA AL MANNAI
IV. PRIZE CATEGORY: Ladies Draws
Winners for QAR. 10,000/-
DANIYA HASSEN FAKHROO
ROSELLE DELA CRUZ DEVERATURDA
V. PRIZE CATEGORY: Young Saver Draws
Winners for QAR. 10,000/-
LOLWA HARBAN AL SULAITI
GHANIM KHALIFA ALTHANI
VI. PRIZE CATEGORY: Senior Citizen Draws
Winners for QAR. 10,000/-
ABDUL RAHMAN QASSEM QASEM
ABDULLA MOHD ALYAFEI
Al Dana First Draw
I. PRIZE CATEGORY: Monthly
Winner for QAR. 50,000/-
KHALIL IBRAHIM AL JEFAIRI
LAMIA IBRAHIM ALIAN
II. PRIZE CATEGORY: Weekly
Winners for QAR. 10,000/-
ABDULHAKIM HAIDARA MOHSEN
ABUBAKER MOHD ALSYARI
ALI ABDULLA ALTHANI
HANI SHAHIR ALI ALJAZZAZI
MAHEMOOD ALI SYED BANDE ALI
MOHAMED JASSIM ALTMIMI
MOINUL HASAN MOHAMMED HOSSAIN
PRANAV CHEMBIL PRADEEP
SHAIKH IMTIYAZ  AHMED
SHAJAN MACHINGAL KESAVAN
III. PRIZE CATEGORY: Daily
Winners for QAR. 5,000/-
ABDUL BAQI ABDUL SATTAR
ABDUL RAHMAN ABDUL MAJEED
ABDULAZIZ SULTAN ALMALKI
ABDULLA ESSA AL HADAD
AHMAD JASSIM AL SOOJ
AHMED ABDULLA
ALAA KAMEL MOHAMMED ABDUL
AUSHIT LAL KUMAR
AYMAN ABASSI
BABU KAKKADAN PAULOSE
BAKHITA SALEM YARBOEY
CHRYSOULA PETTA
DANIYA HASSEN FAKHROO
DEENA AMAL
DOR MOHAMMAD ABDULLAH DEHVARI
EMMANUEL BIATO LUNA
FATEMAKHATOON MOHD ALAM
FATHI RASHED ABUALRUB
FUAD MUSTEFA AHMED
GHANIM JUMAH AL SULAITI
GNANARAJ ARUL SAMRAJ
HAMZA VALAPPIL
HOME NIDHI
HUSSAIN ABDULLA AL HAIDER
ITIDAL FUAD SULEIMAN HEDAYA
JASSIM AHMAD ZEYARA
JEMAL SEED M GETA
KABEER PALLATH AREEKATTIL
KFAA SAB MUDHI ALKHALAF
KHALID ABDULLA ALBAKER
LUBNA MURTUJAALI BHATTI
MARYAM MORTAZA RAVANI
MOHAMED AL BREIKI
MOHAMMED AZIZ AL SAHLAWI
MOHAMMED NIZAMUDDIN
MOHAMMED SHAB UDDIN KHAN
MUBARAK HAMAD AL MOHANNADI
MUFTI QADAR & ALIA QADAR
MURAD HEYDER HASSEN
NAJMA SHAIKH NASRULLAH SHAIKH
NASSER JEHAM AL KUWARI
NEMESIO TONGCO MADAMBA
PADMALAYA MEHER
REKHA SINGH&PRADEEP VISHUNAVAT
RUBA MOHD EL GHOUL
SALEH KHALAF MANNAI
SALEM MOHD AL ADHAM
SAMIR  SYED
SAMIRA LUBEM UDAL
SANDEEP GANPATRAO PATIL
SANDY HENRY TOROYAN
SAREAH SAEED ALKUWARI
SHABNA THASLIM
SHAHID KHALID PONNETH
SHAMLAN MARZOUQ ALSHAMLAN
SHARIFA AHMED ALDOSARI
SULFATH THAHA
SYED ABDUL LATIF SADAQAT ALI
WADHA ABDULLA HANZAB
WAFA ABDULLATEEF ALKAMALI
WESAM SHTAIWI FRAIH HADDAD
ZAKARIA OR YAHYA OR KHALED
IV. PRIZE CATEGORY: Ladies Draws
Winners for QAR. 10,000/-
HANAA NAGEEB ABDALLA MOHAMED
SHEIKHA ASMAA MANSOOR AL THANI
V. PRIZE CATEGORY: Young Saver Draws
Winners for QAR. 10,000/-
FATIMA ALI HAJI AL SHARSHANI
IYAD ALI
VI. PRIZE CATEGORY: Senior Citizen Draws
Winners for QAR. 10,000/-
SAIF UR REHMAN AMAN ULLAH KHAN
SALMA  BEGUM
Al Dana Qatar National Day Draw
Winner for QAR. 1,000,000/-
SHOUAA KAMEL A. ABOUNAHL
Winner for QAR. 100,000/-
KHALID ABDULLA A A AL KUWARI
ABDULRAHMAN MOHD A. AL-MEER
Winners for QAR. 10,000/-
MOHAMMED A.RAHMAN AL KHATER
MA MYLA MARCELO AQUINO
MARIAM MOHD ALKHAL
MEDHAT AHMED A M KESHK
HABIB HASSAN POUR
SALAHUDHEEN KOTTUKKAL KUNHIMON
DILEEP KARTHIKEYAKURUP
HAZEL MAY AZUCENA AGUINOT
BONNIE GEORGE
MOHAMED HASAN J SHARDOUB
WALID ELSAYED M M ELYAMANY
ABDULRAHMAN SALEM AL WEHAIBI
MAJID ABDULLA M A AL KUWARI
ANJALI SOMANI
SALAHUDDIN & SHAHIDA GHORI
FATH ALLAH GHARBAOUI
SHAIKH IMTIYAZ AHMED
MOHD AHMAD A NABI MOSSA KHADER
MUKESHKUMAR NANALAL PATEL
SAUD JASSIM AHMED ALI AL THANI
Winners for QAR. 5,000/-
MOHAMMAD ALI ABDULLA HAJI
KAISERAY JAHAN
HALA ELSAYED ALI
YOONUS PERUVAN KUZHIYIL
A K ABDUL KADER
ABIR ELSAYED ELELEMY
ALANOUD ALI J H AL HENZAB
IMAD SALEH KABBANI
SULTAN MOHAMMED A S ALKHULAIFI
SAAD SALEM ALNAIMI 
YASSER MOHAMMAD HUSNI
NAJEEB EBRAHIM KAKKUNNATH
AISHA AHMED A Y AL OBAIDAN
ABDULLA P.MOIDIN
KHAOULA LAJNEF
ZAKARIA MOHAMED ALI ABUJUBARA
BASHEER HUSSAIN CHENGANAKATIL
ALI MOHAMMED ALI D ALGUBAISI
SHOUKATH MOHAMMED ALI
MOHAMMED SHAFRAS M HANIFFA
Click here to return to the main Al Dana web page.
Note:
Doha Bank's retail, commercial and corporate products are granted at our sole discretion and are subject to the Bank's terms, conditions and acceptance.
Al Dana Terms & Conditions
Al Dana is a Prize link Savings account. Residents of Qatar maintaining an active Al Dana Savings account in Qatar Riyal (QAR) or United State Dollars (USD) with a monthly average balance of QAR 5,000 or equivalent or more and having a Month End Balance of QAR 5,000 or equivalent or more will qualify for Al Dana prize scheme.
One chance is equivalent to QAR 1,000 or equivalent in USD, and chances will be calculated on the Monthly Average Balance in the account.
The Monthly Average Balance is equal to sum of daily balance for the working days of the month, divided by the total number of working Days of the month.
Customers opening a new account with a monthly average balance of QAR 25,000 or more or customers who will increase their monthly average balance by QAR 25,000 or more will be eligible for Double or Triple chances (during Campaigns) for the month.
Double OR triple chances will be calculated on the monthly average balance for new customer for the month of opening the account and the incremental average balance of the month for the existing customers.
Winners from the same prize category will not be repeated in the successive months during the promotion period.
To ensure transparency of the draw and the integrity of the product, the Bank has the right to advertise the winning numbers, names, nationalities, and photos of the winners and Bank reserves the right to use winners name and photographs in all current/future promotional, advertising campaigns and/or marketing material.
Winners are requested to make themselves available for verification, documentation, and photography prior distribution of the prizes.
The prizes are non-transferable, non-negotiable.
In the unfortunate event of the death of the winner, post announcement of the results the amount will be credited in the customer's legal heir as (appointed by the court) maintained with the Bank.
All the prizes will only be credited to the customer's account maintained with the Bank.
In case of a winner leaves the country before credit the prize money, the Bank will continue to credit the account if maintained with the Bank. The Bank will not incur any additional cost of repatriating the money.
Doha Bank's Board members and Employees along with their family members are not eligible to participate in Al Dana draw. In the event any Doha Bank's Board members or Employees family member wins the prize draw, the Bank reserves the right to deny the prize money or claim refund of any prize paid (without prejudice) and conducts another draw to determine the eligible winner.Al Dana prize scheme is valid till 28/02/2023 and the final draw will be held during the month of March 2023.
The Bank, at its sole discretion, to continue, discontinue or to change the prize scheme after the expiry of the campaign without notifying customers in advance.
All draws shall be held under the supervision of representatives of the Bank's, and representative of Ministry of Trade and Commerce. The result of the draw is final.
The bank has the right to seize the prize and the customer's account if there is any suspicion of money laundering or terrorism financing.
Civil courts of the QATAR shall have exclusive jurisdiction to resolve any dispute arising out of the above transaction.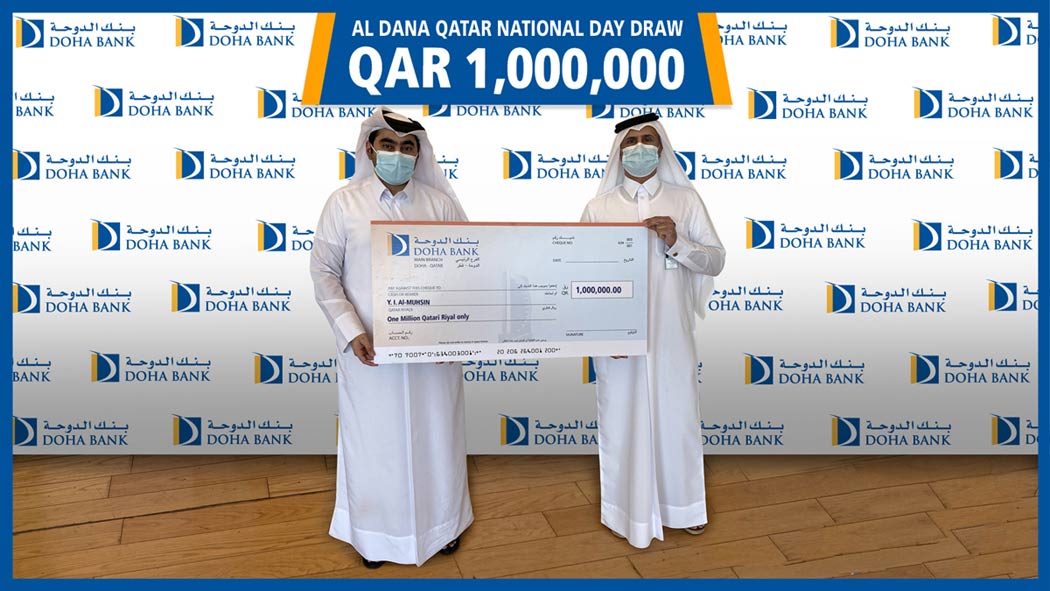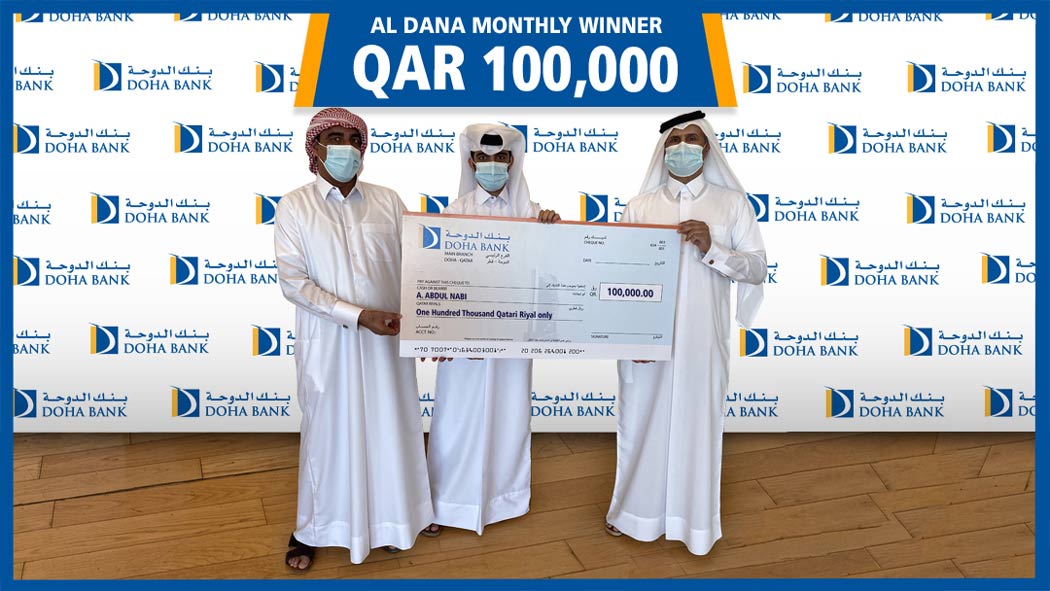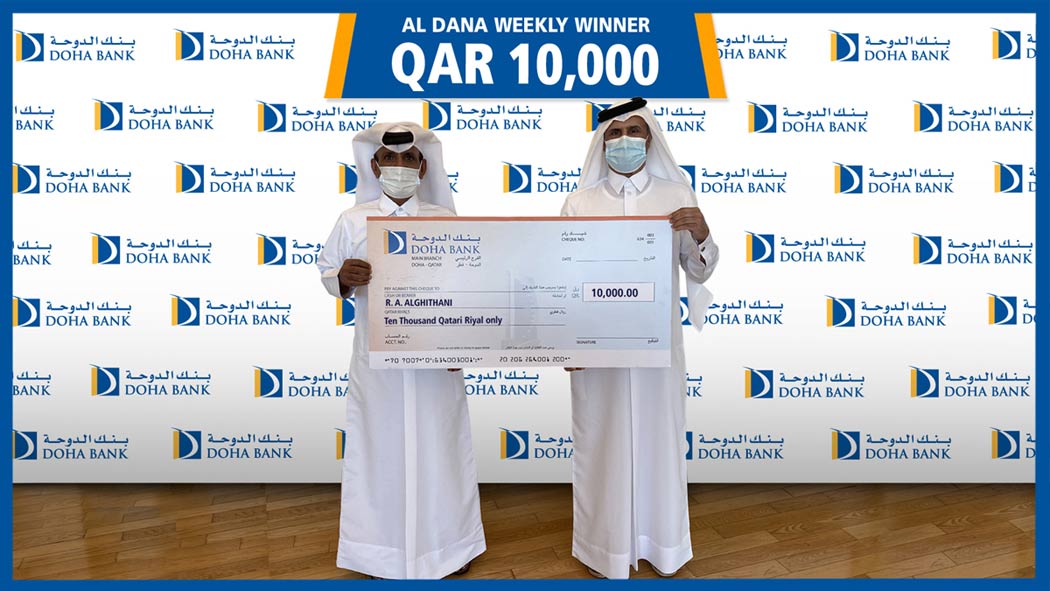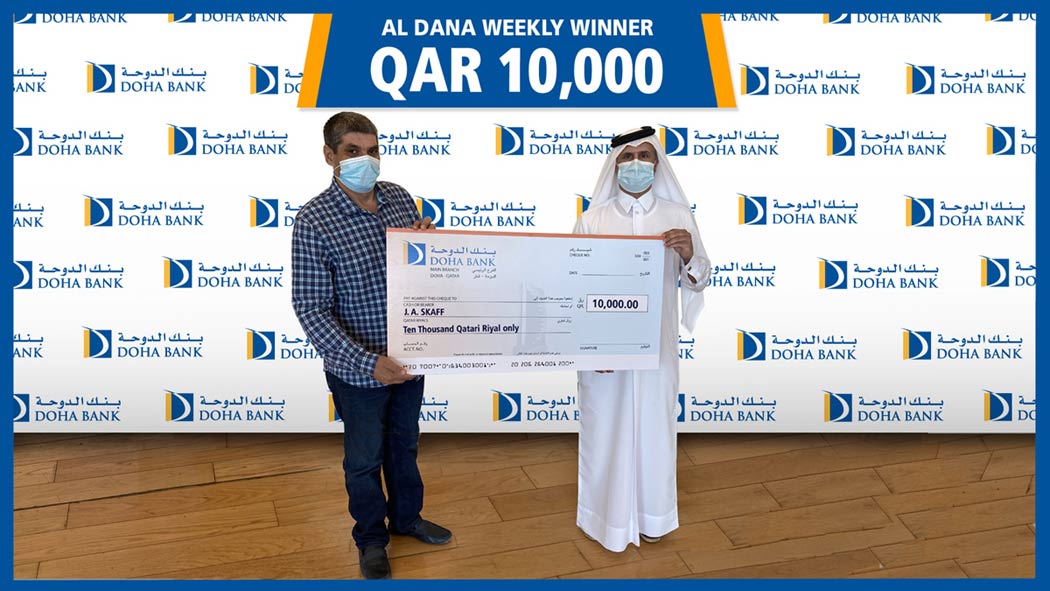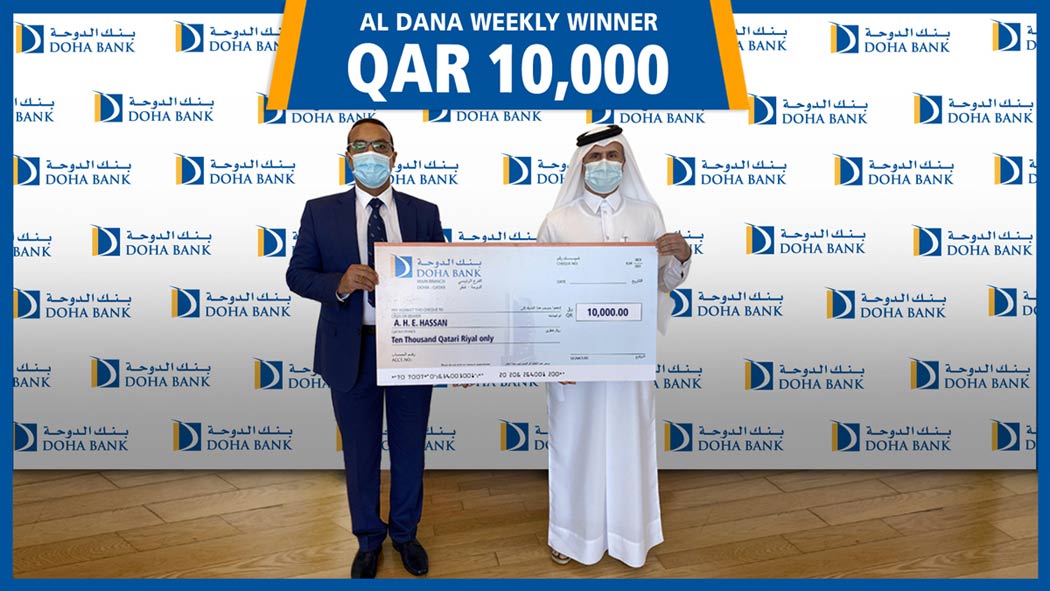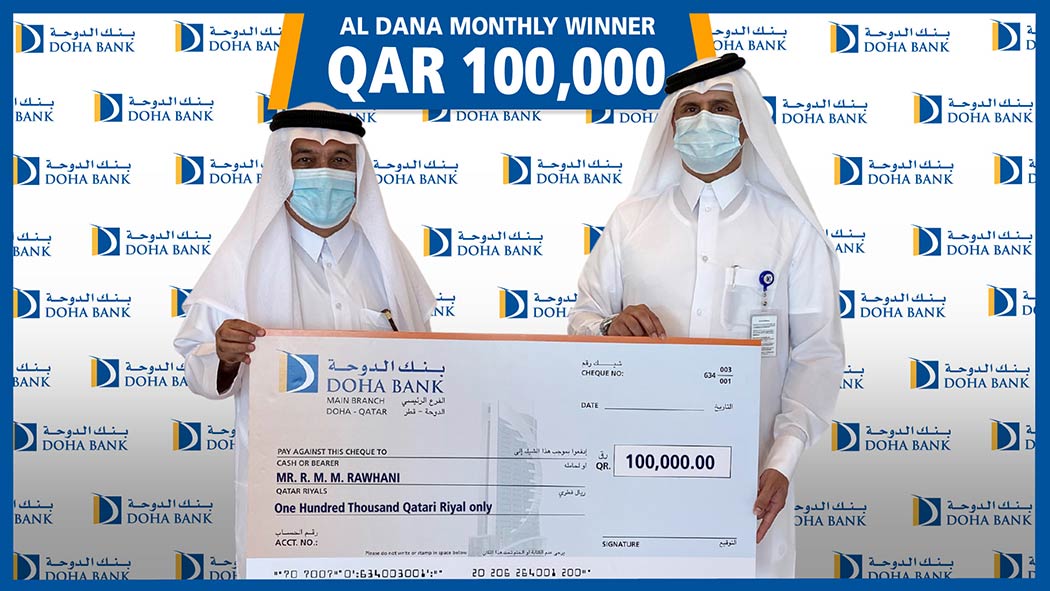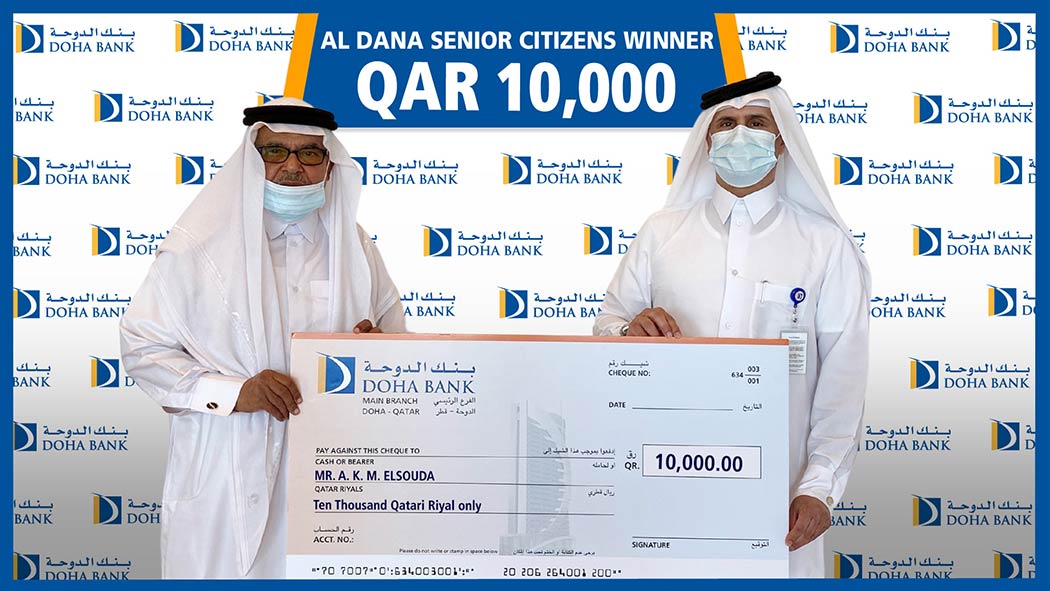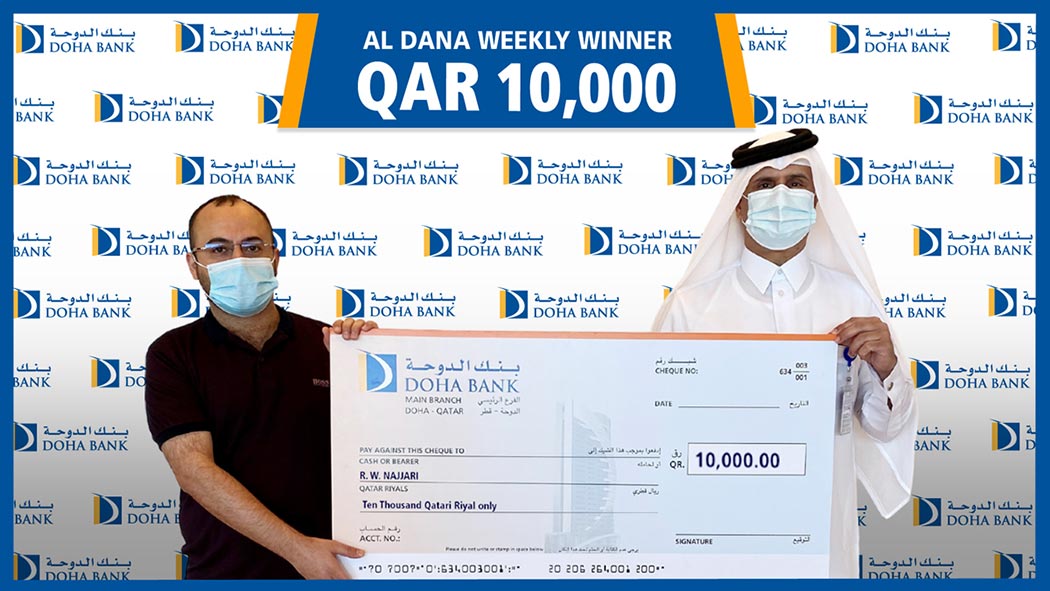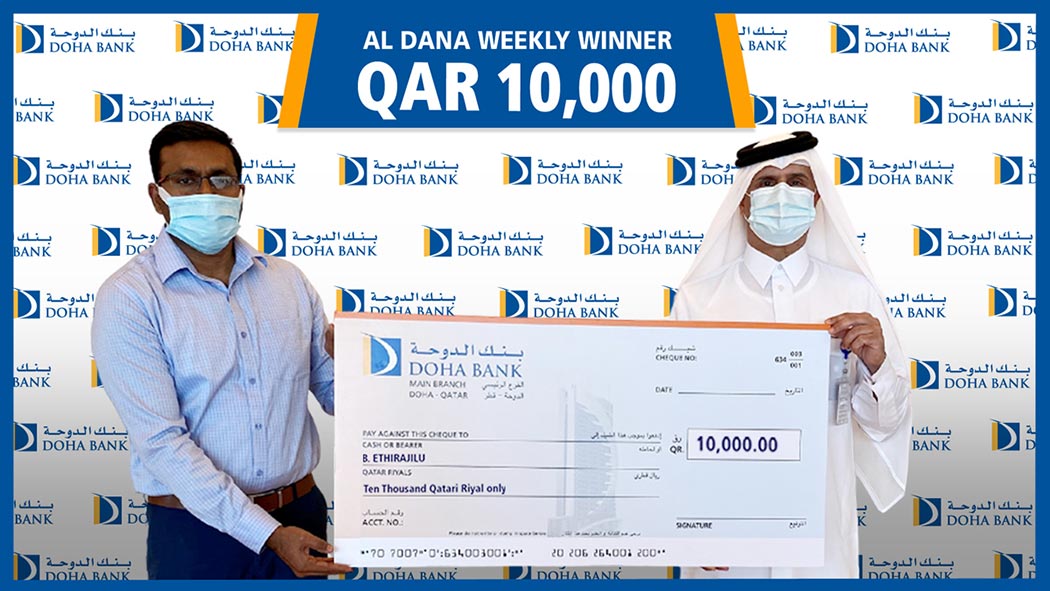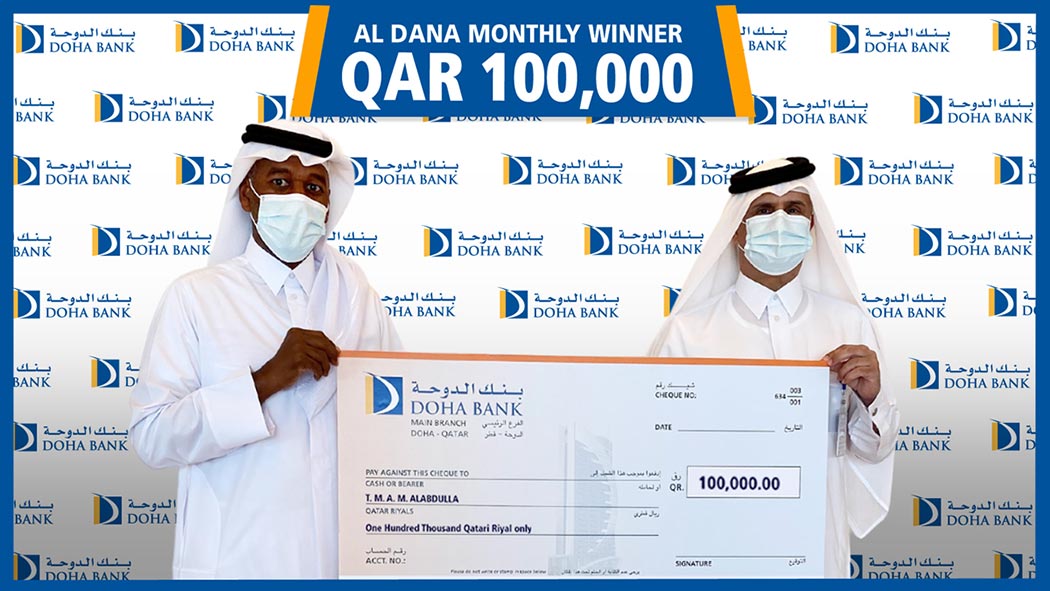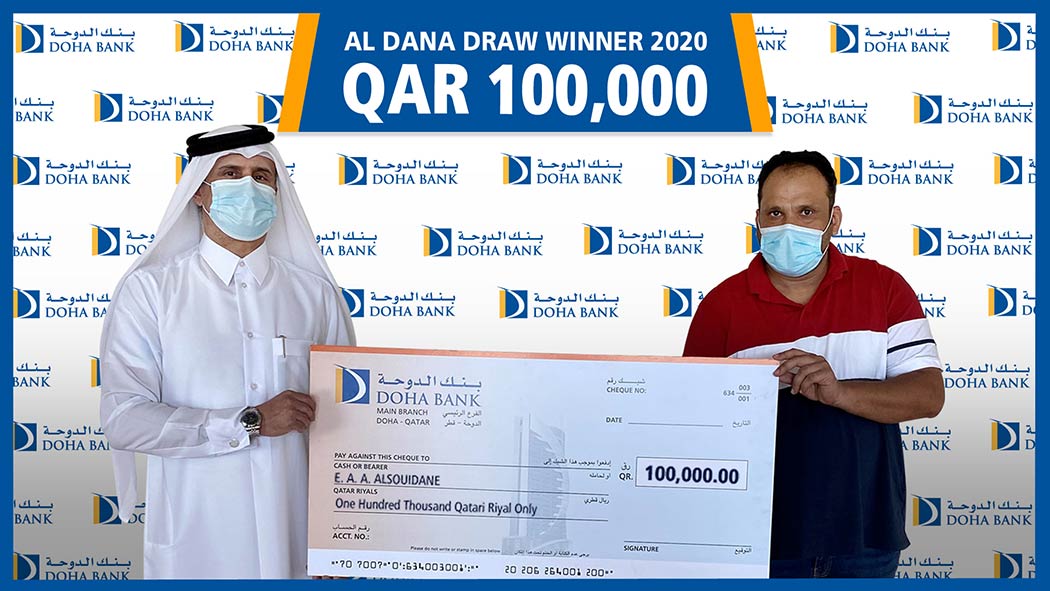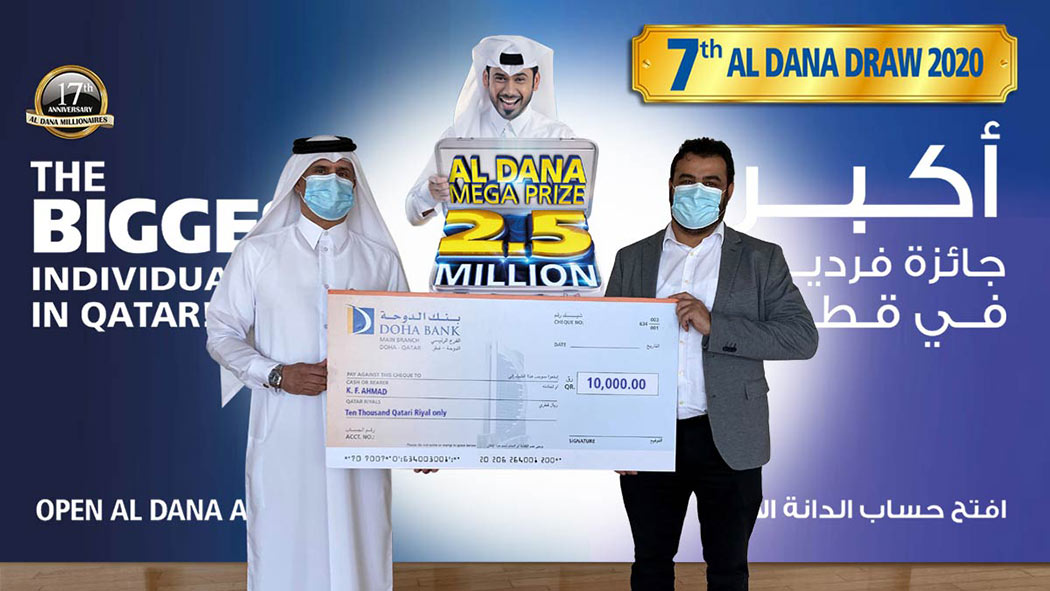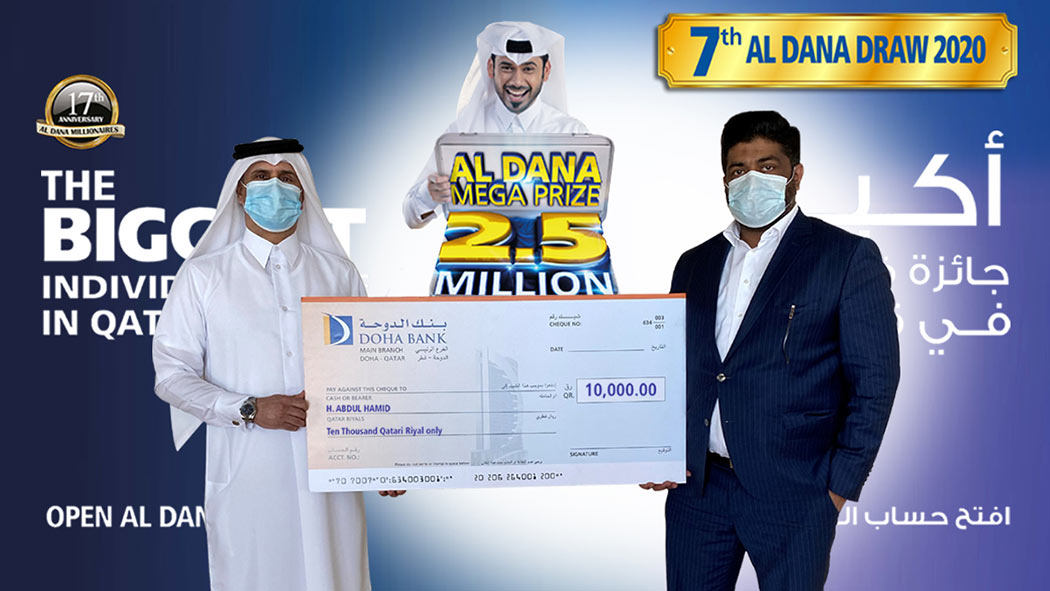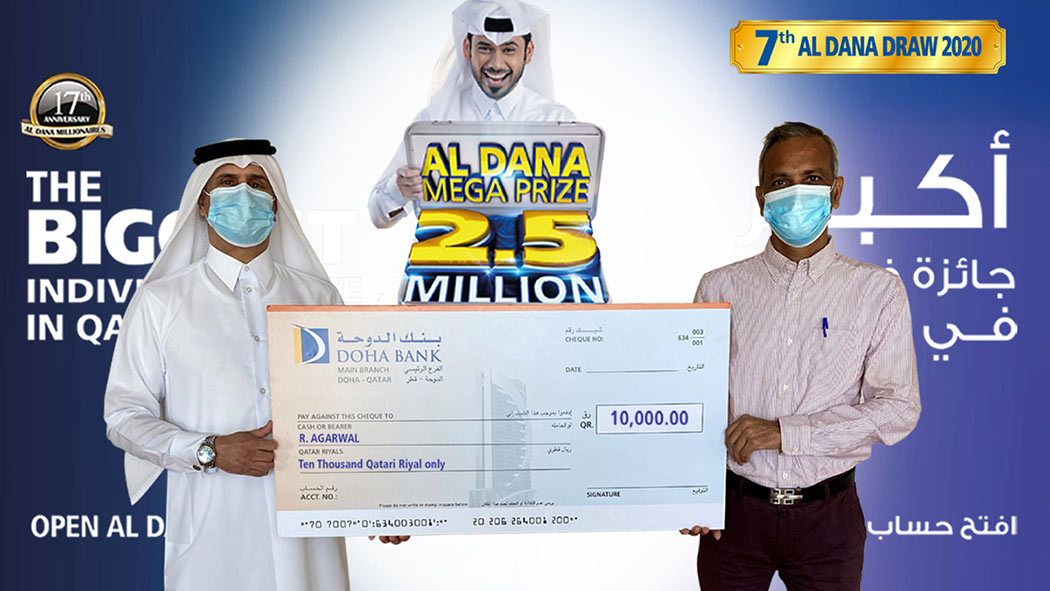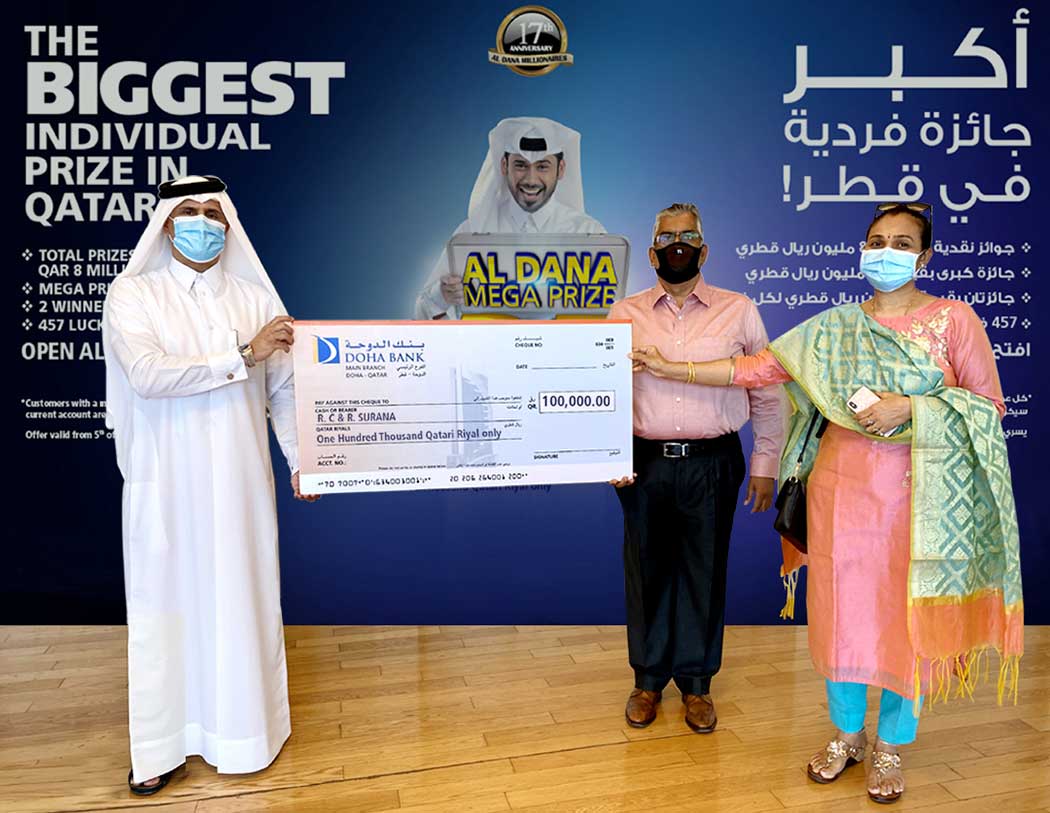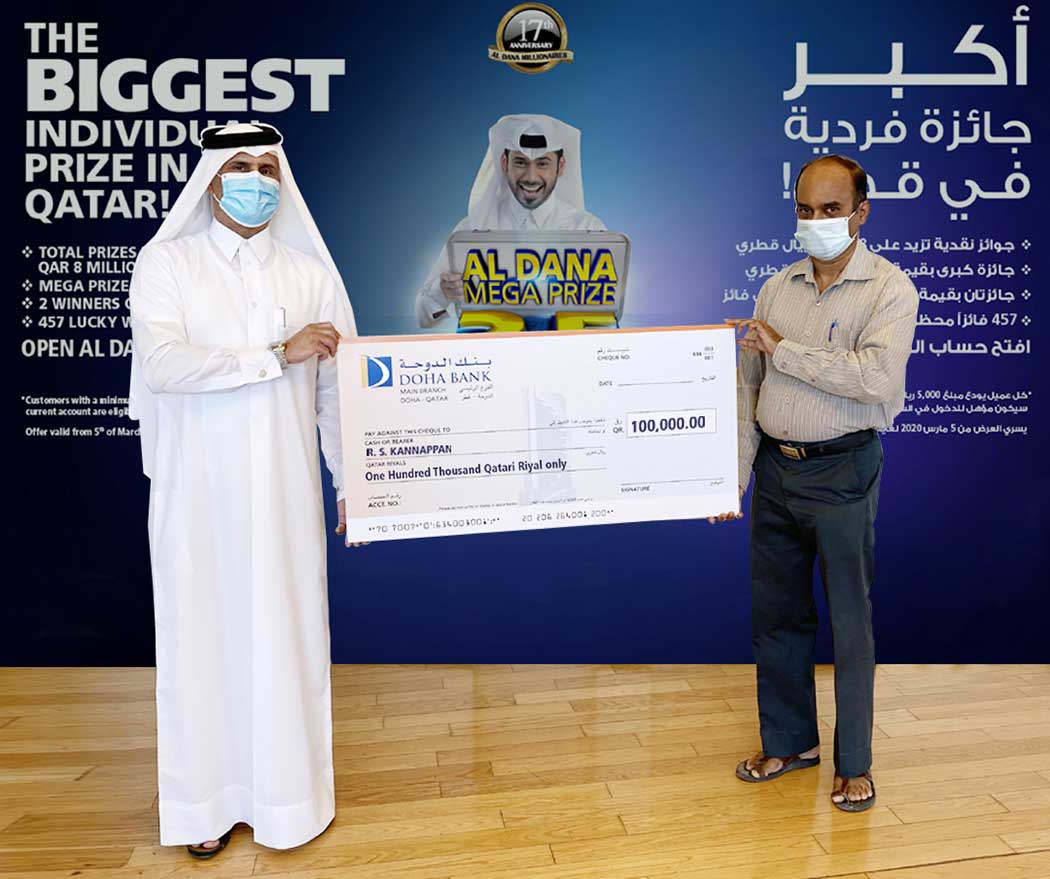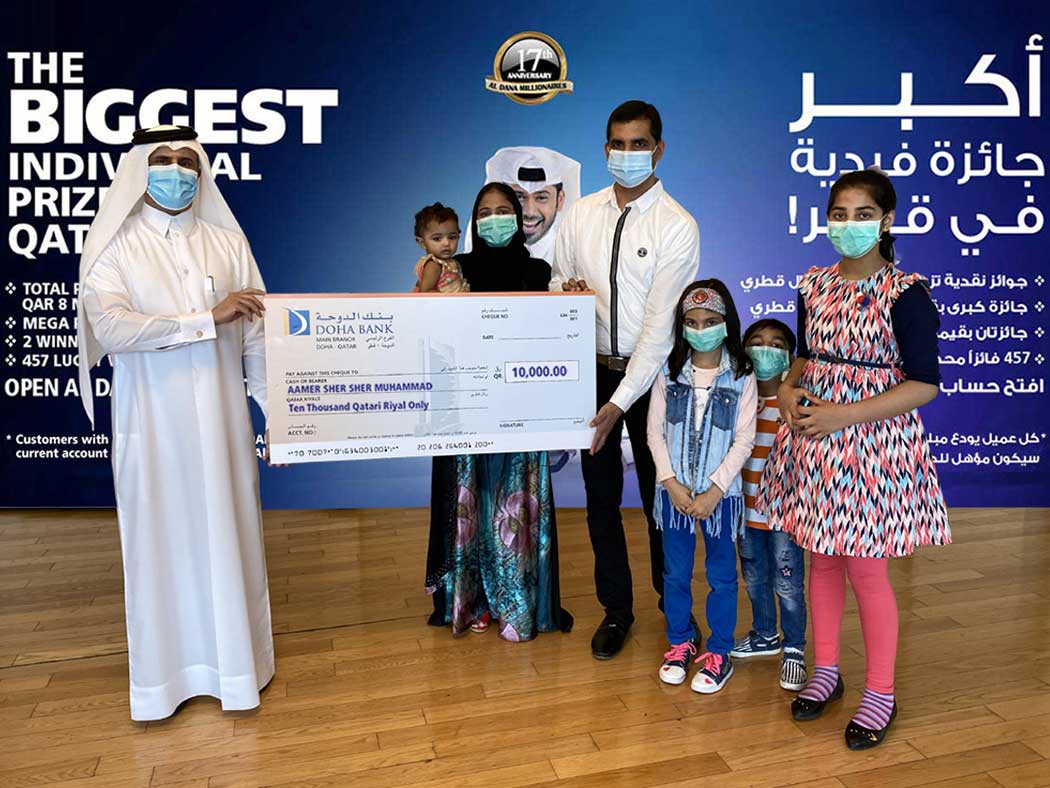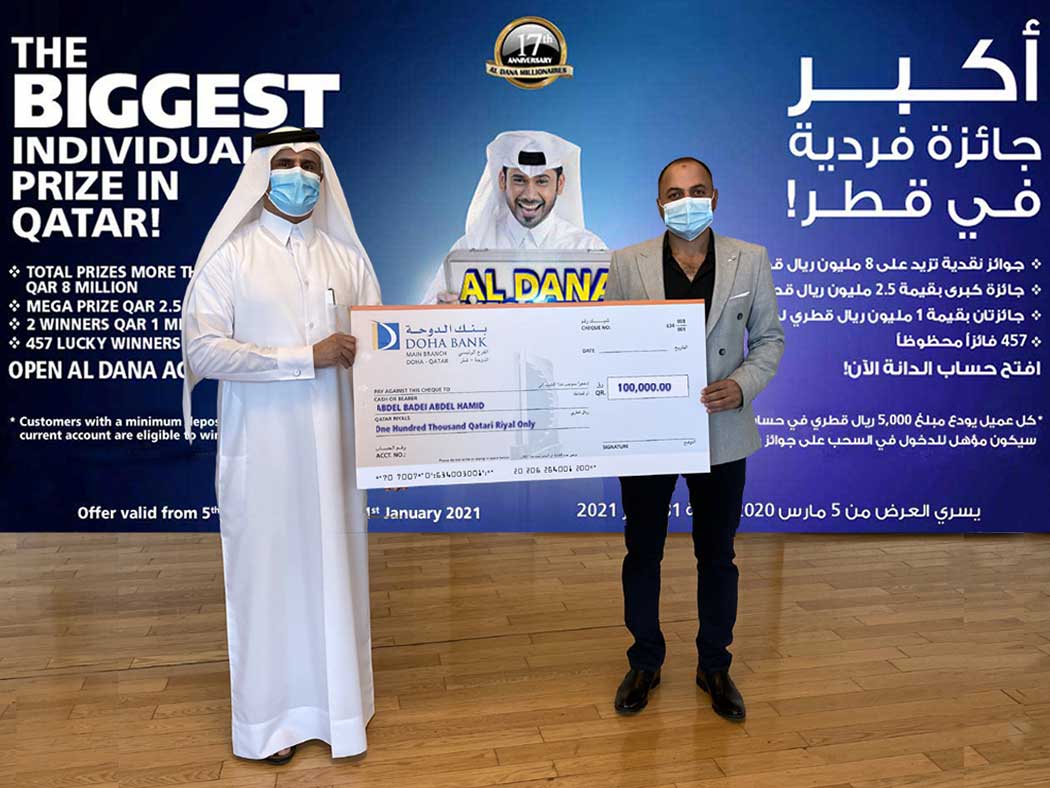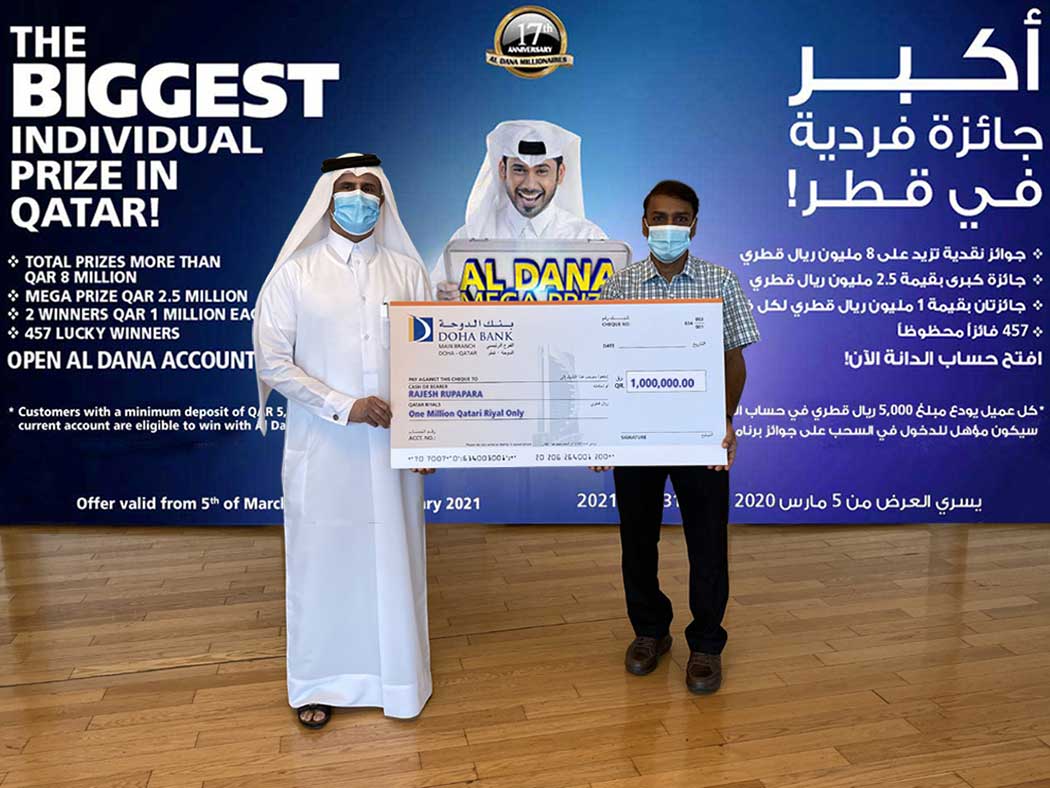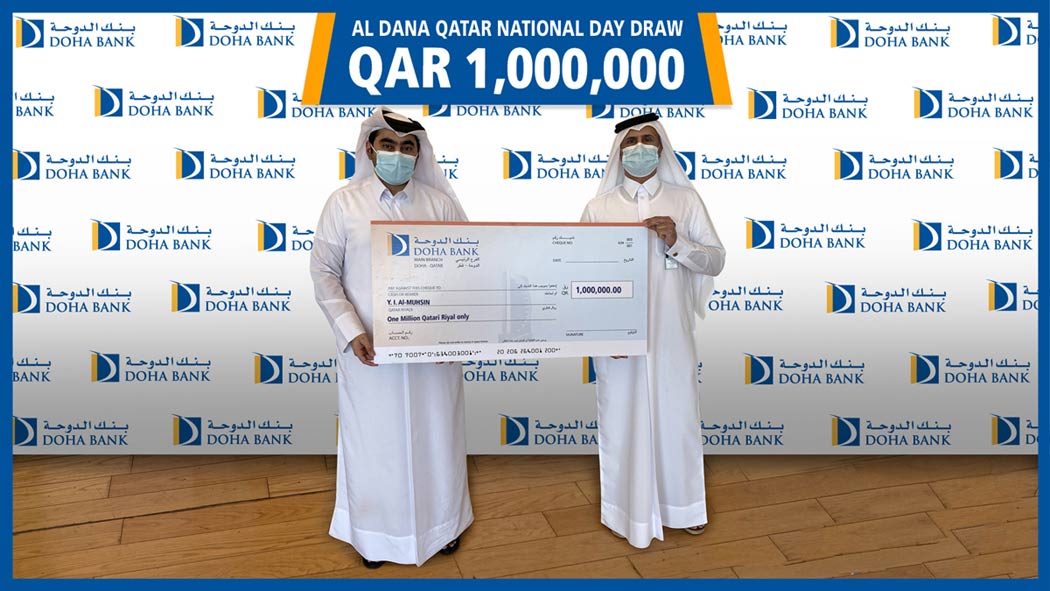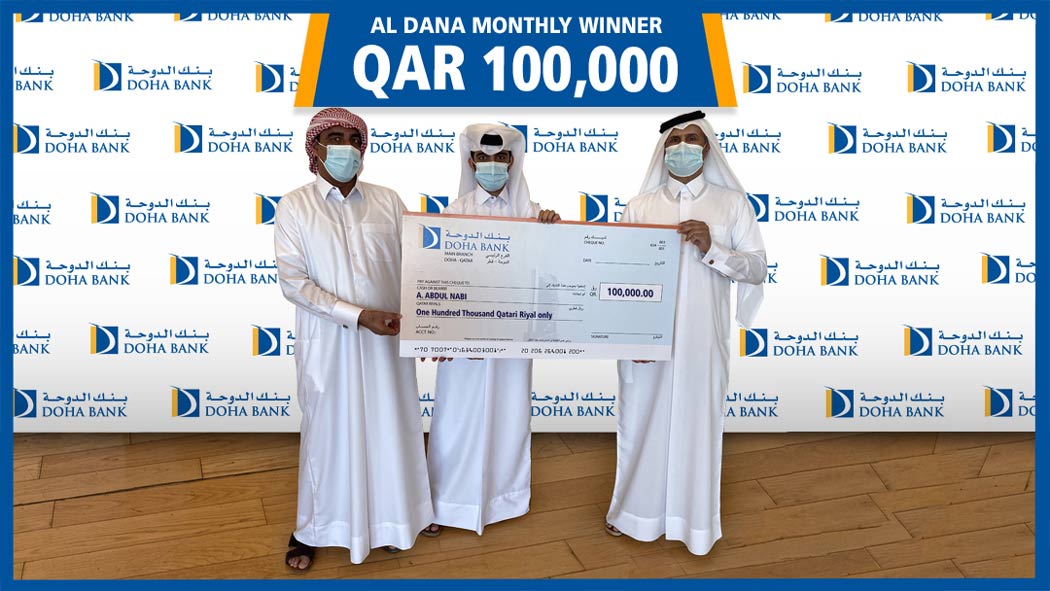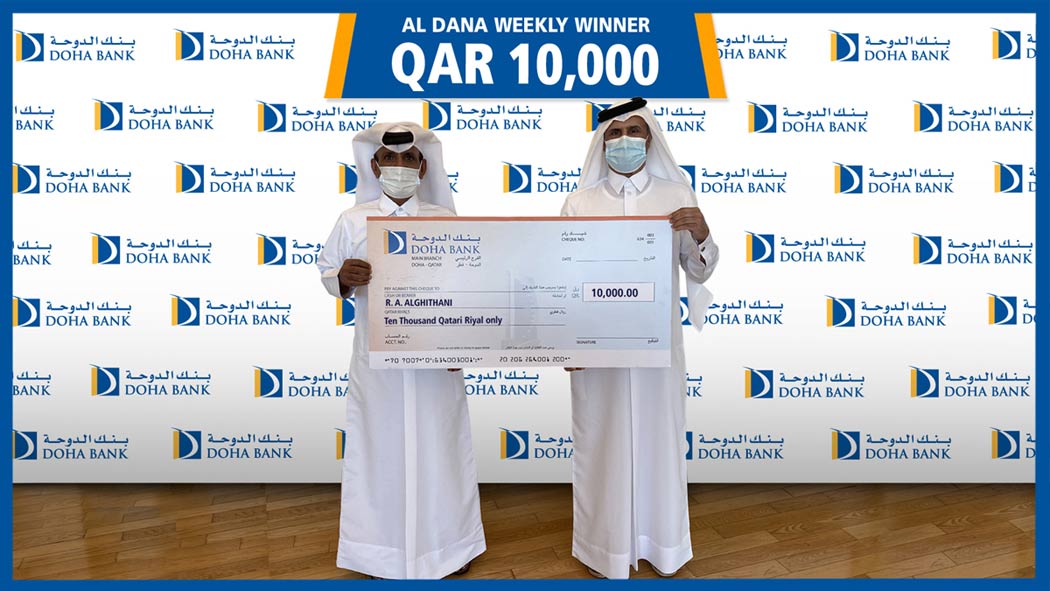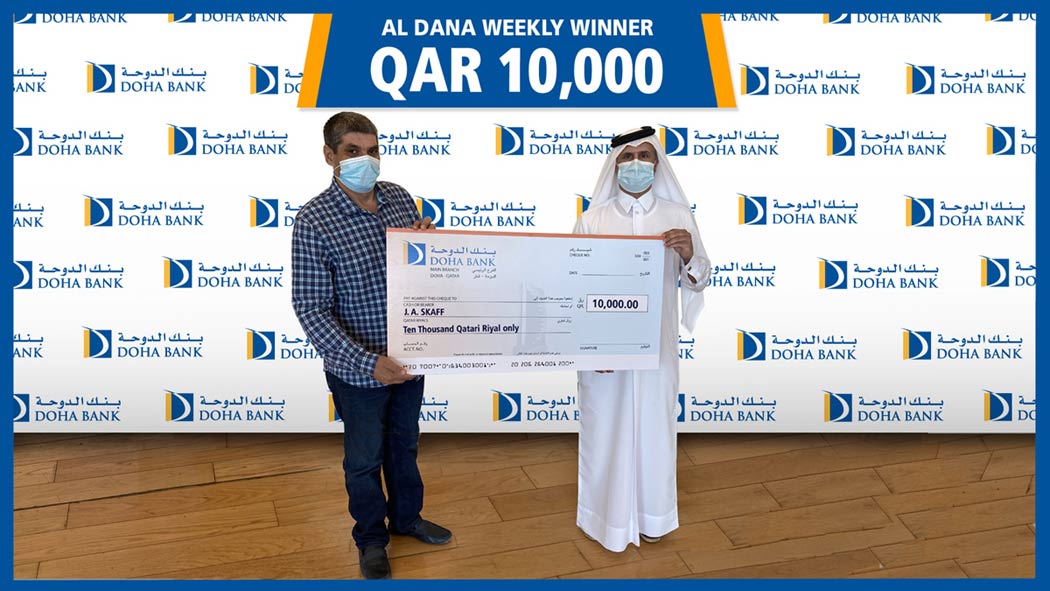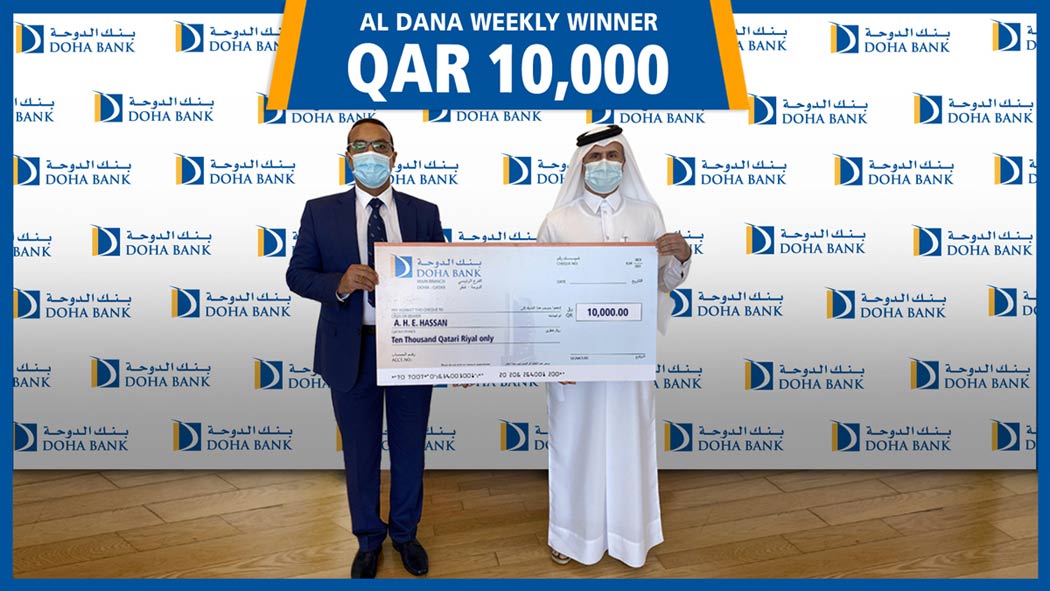 Al Dana 2018 Winners