Al Dana 2022 concluded the 19th Edition with a Grand Prize of QAR 2.5 million
Doha Bank, the most rewarding commercial bank in Qatar, has recently announced the winner of the biggest cash prize in the country during the event held at Mall of Qatar, Oasis Stage hosted by well know social media personality Mr. Hamad Al Amari. The Doha Bank senior management also joined the event to celebrate the announcement of the winner of QAR 2.5 million. The event was filled with fun activities and giveaways.
The Grand prize of QAR 2.5 was won by Mrs. Neama Saeed Jabir while Mrs. Ayesha Adel, Mrs. Uzma Ali & Mr. Sameer Pathan claimed the Al Dana Monthly prize of QAR 50,000 each. During the 12th Al Dana Draw 14 prizes of QAR 10,000 were distributed including Al Dana Young savers, Al Dana Ladies and Al Dana Senior citizens. Finally, 56 additional customers bagged Al Dana daily prize of QAR 5,000 each.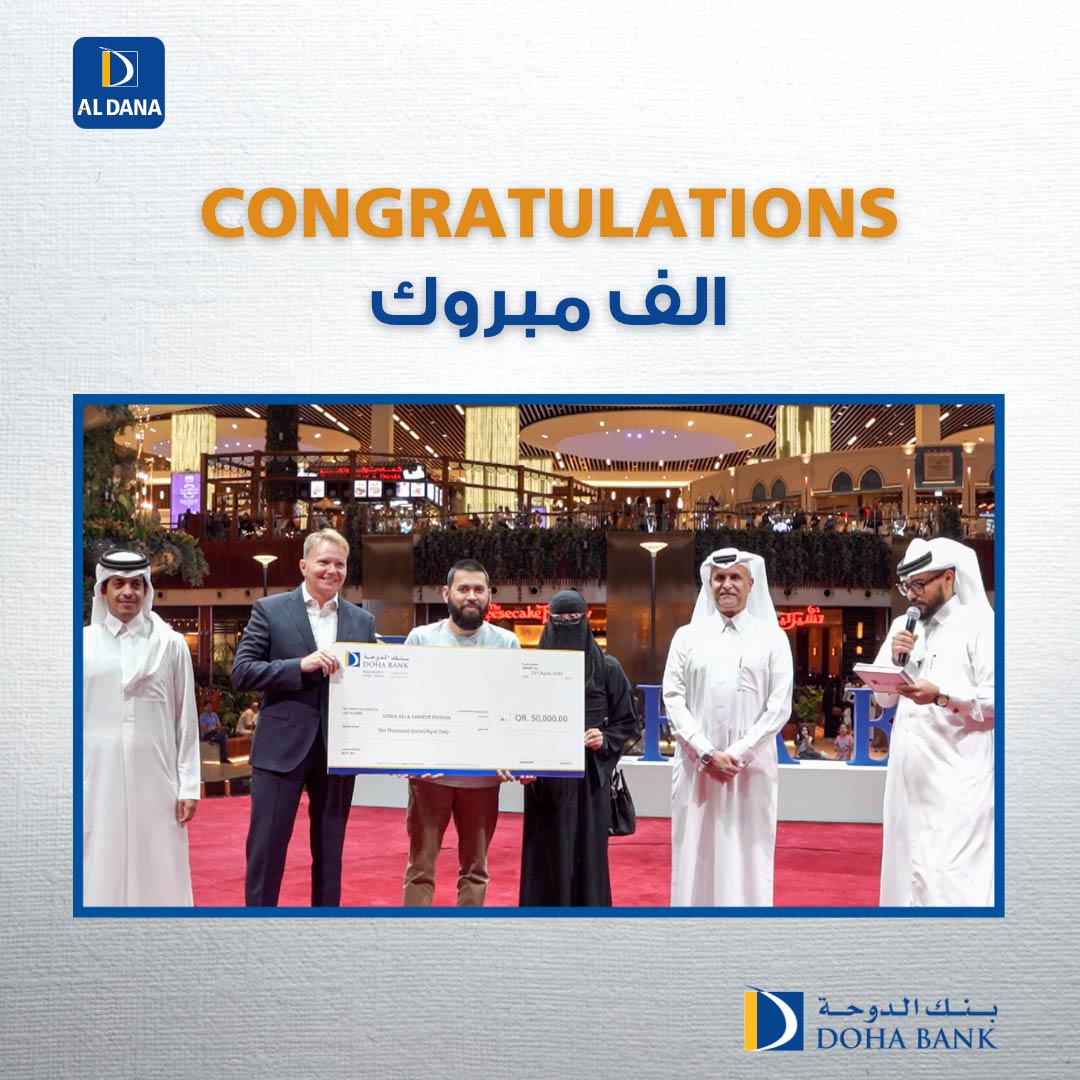 This final draw concluded another successful year for Doha Bank's unique Al Dana Savings Scheme by giving away over QAR 11 million in cash prizes for over 930 lucky winners.
Commenting on the occasion Mr. Braik Al-Marri, Chief Retail Banking Officer, said: "Doha Bank Congratulates all the lucky winners during the past 12-months. This marks our 19th consecutive year in creating millionaires and providing life changing opportunities for many happy Doha bank customers. They are our testimony for the success of Al Dana Savings scheme. It proves the effectiveness of our strategy to encourage and embed the concept of financial saving into the Qatari society, encouraging residents to multiply their savings in no time. Having concluded 19 successful years, we look ahead for a very exciting year with lots of prizes and surprises in our upcoming 20th Al Dana edition in 2023."
We invite all residents in Qatar to have an Al Dana Savings account with a minimum starting amount of QAR 10,000, where each QAR 1,000 saved give one chance in the draws to come. The more you save, the more chances to win.
Doha Bank provides you with a unique opportunity to become a millionaire in addition to other benefits to be announced soon.
To learn more about the Al Dana – 2023 Savings Scheme, please visit any branch or log into www.dohabank.com