Doha Bank Announces FIFA World Cup™ Campaign Winners, Thanks to Visa
Doha Bank, one of the largest commercial banks in Qatar, has announced the winners of its FIFA World Cup™ campaign in collaboration with Visa, the Official Payment Services Partner of FIFA. Customers were encouraged to take part in the upcoming draw and win a once in a lifetime experience to the FIFA World Cup™, thanks to Visa.
The five winners of the first Lucky Draw FIFA World Cup™ campaign have received a hospitality package for two to the FIFA World Cup™, courtesy of Visa. The package includes two tickets to a Semi-Final match, free transportation to and from the match as well as other valuable benefits. We have also carried out the lucky draw campaign for our second FIFA World Cup™ spend Campaign where we have awarded 65 winners with match tickets to the Opening Match, Round of 16, Quarter Final and Final Match, as well as skybox seats at a Group Stage match, courtesy of Visa.
The opportunity to experience the FIFA World Cup™ excitement is still well within reach, as our next lucky draw campaign will up the prize pool to a grand total of 200 tickets meaning 100 lucky winners can take part in the exhilarating thrills of the FIFA World Cup™, thanks to Visa. Tickets to the Opening Match, Group Stage, Round of 16, Quarter Finals, Semi Finals, 3rd/4th Place Play-off and Finals make up the prize pool so we urge customers to join us in celebration through our lucky draws and we wish you the best of luck.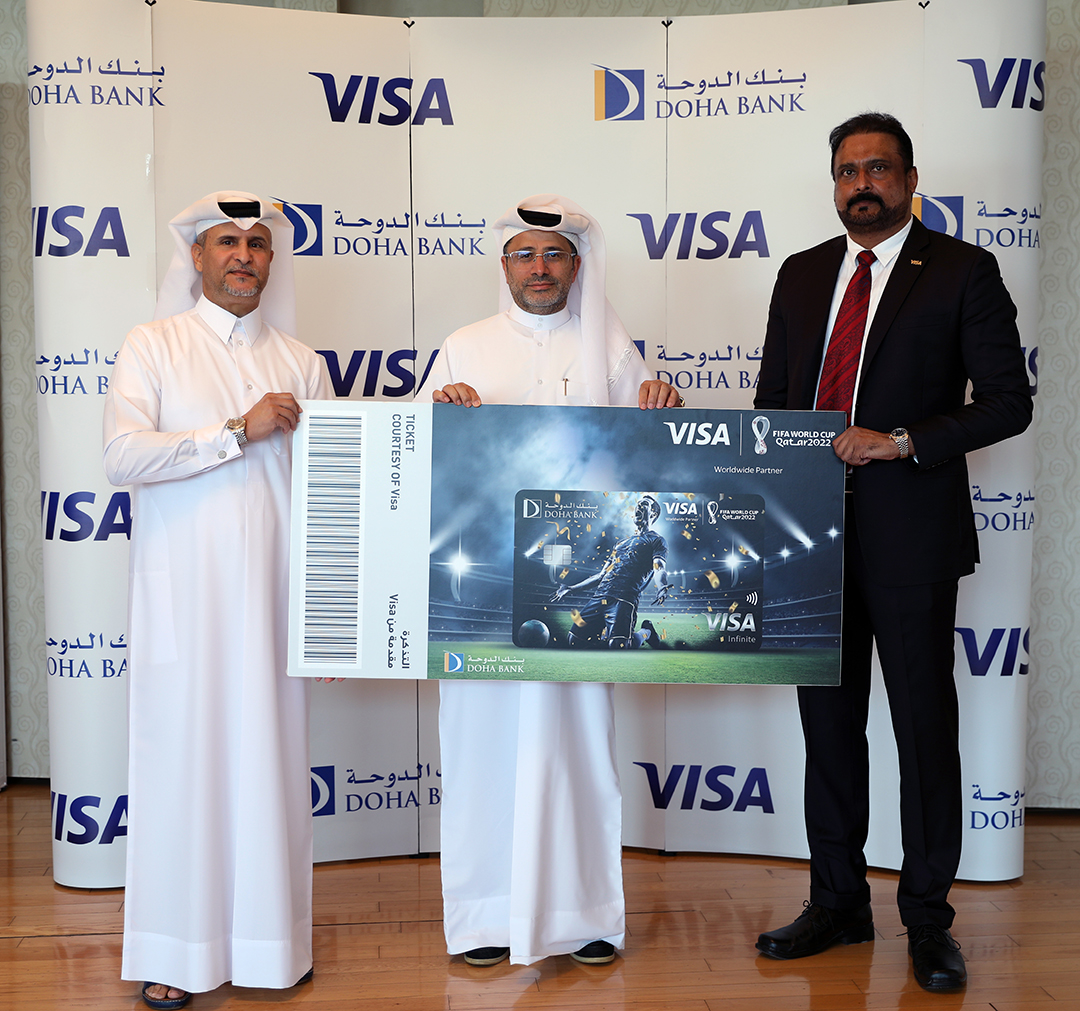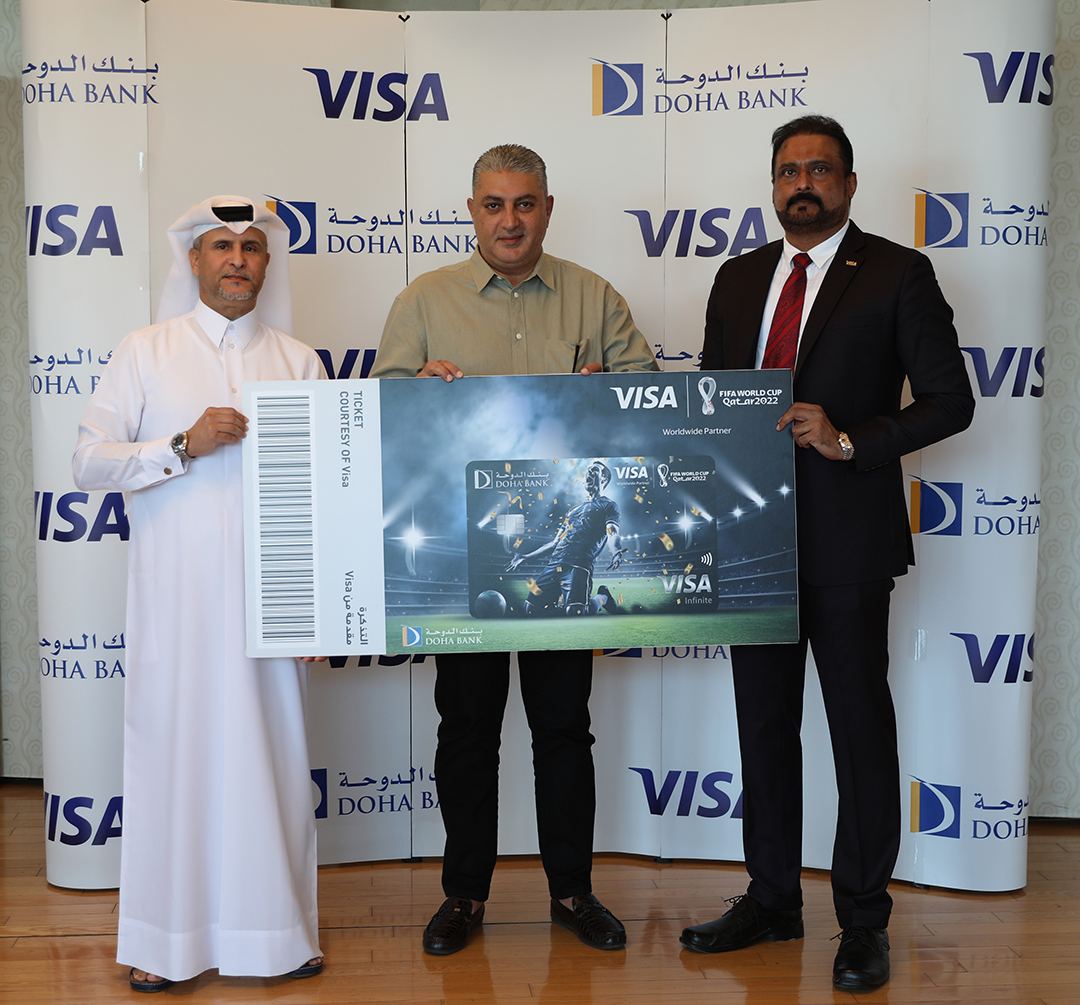 Both our new and existing customers would just need to spend a minimum of QAR 500 on international retail and on Qatar Airways website or mobile app using their Doha Bank Visa credit card during the campaign period which ends on October 31, 2022. Accumulated spends on international retail or on Qatar Airways website or mobile app equivalent to QAR 500 during the campaign period will award 1 entry to the lucky draw campaign. So, the more you spend the higher your chances of winning.
Being committed to celebrating the FIFA World Cup ™ in Qatar, Doha Bank has also partnered with Visa and launched a lineup of themed credit cards namely their Infinite, Signature and Platinum credit cards each with their own FIFA World Cup™ thematic design.
Dr. Sudheer Nair, Visa's Country Manager for Qatar, commented: "Our FIFA sponsorship enables Visa to offer exclusive experiences to our cardholders. Promotions are also a great way to support local governments' efforts to extend the benefits of digital commerce to more consumers and business. We are delighted to see Doha Bank customers win these exciting prizes that will create memorable moments for them at FIFA World Cup Qatar 2022™. Congratulations to the lucky winners and we look forward to bringing more of these exciting promotions to Doha Bank's Visa cardholders."
Mr. Braik Al Marri, Chief Retail Banking Officer commented "It is a great pleasure to congratulate our lucky winners as together we celebrate the coming of the largest football event on the planet, thanks to Visa. We are excited to partner with Visa to be a part of their FIFA World Cup™ memories and we look forward to being a part of more stories with even more upcoming prizes and draws. We have also provided a way to cement those memories via our collaboration with Visa in launching our FIFA World Cup™ themed Visa Infinite, Signature and Platinum cards."
Write your FIFA World Cup™ stories with us at Doha Bank and thanks to Visa, let us celebrate together a game that has brought the world closer once more. We congratulate our winners and again we wish the best of luck to all our lucky draw participants. With Doha Bank and Visa, there is so much to look forward to.
More information about the lucky draw campaign can be found on our website at www.dohabank.com/visapromotion