Dr. R. Seetharaman, Doha Bank Group CEO, speaking at the conference
Doha Bank hosted a knowledge sharing session at its Head office in Doha on "Projects and Contracts Opportunities and Challenges". The event happened on 14th April 2014 and was well attended by economists, major contracting companies and bankers in Qatar.
Speaking at the conference Dr. R. Seetharaman, CEO of Doha Bank gave insight on Global economies He said "According to IMF Global growth is projected to strengthen from 3% in 2013 to 3.6% in 2014 and 3.9% in 2015 respectively. Key drivers in advanced economies are a reduction in fiscal tightening, except in Japan, and still highly accommodative monetary conditions. Emerging economies growth will be helped by stronger external demand from advanced economies, but tighter financial conditions will dampen domestic demand growth."
Dr. R. Seetharaman highlighted the trends in GCC economies. He said "GCC GDP at current prices is expected to grow by 3.5% in 2014 and touch $1.7tn and GCC current account balance as a % of GDP at current prices will reach 18% in 2014. Qatar's GDP is expected to grow by 5.9% in 2014 as the pickup in the public investment program is roughly offset by a modest decline in hydrocarbon output."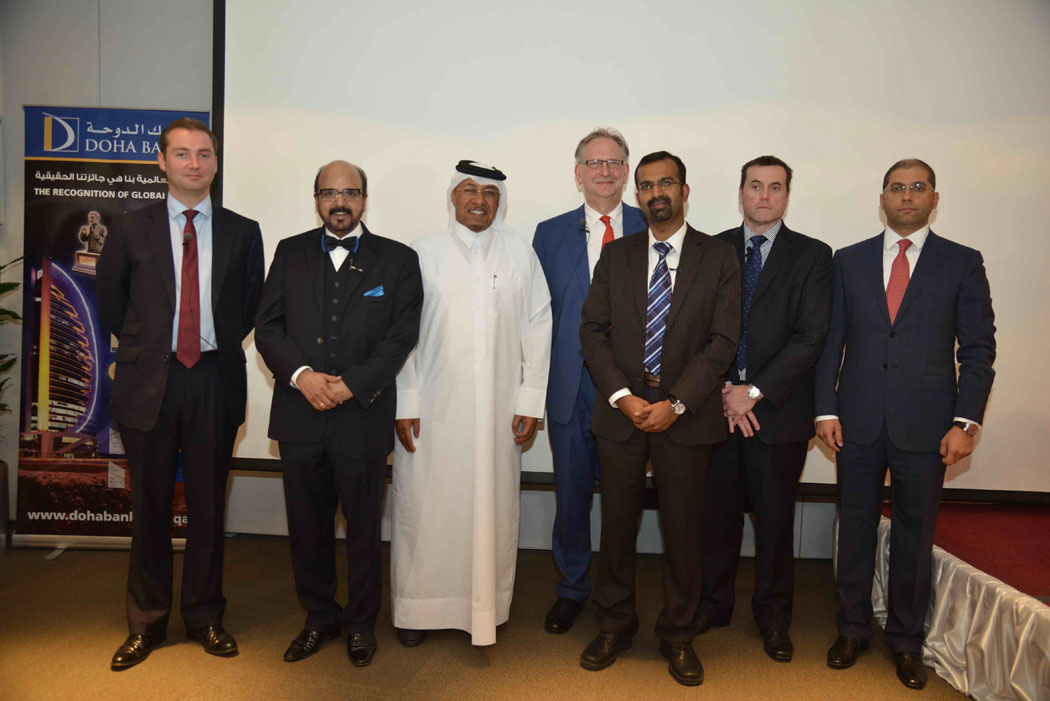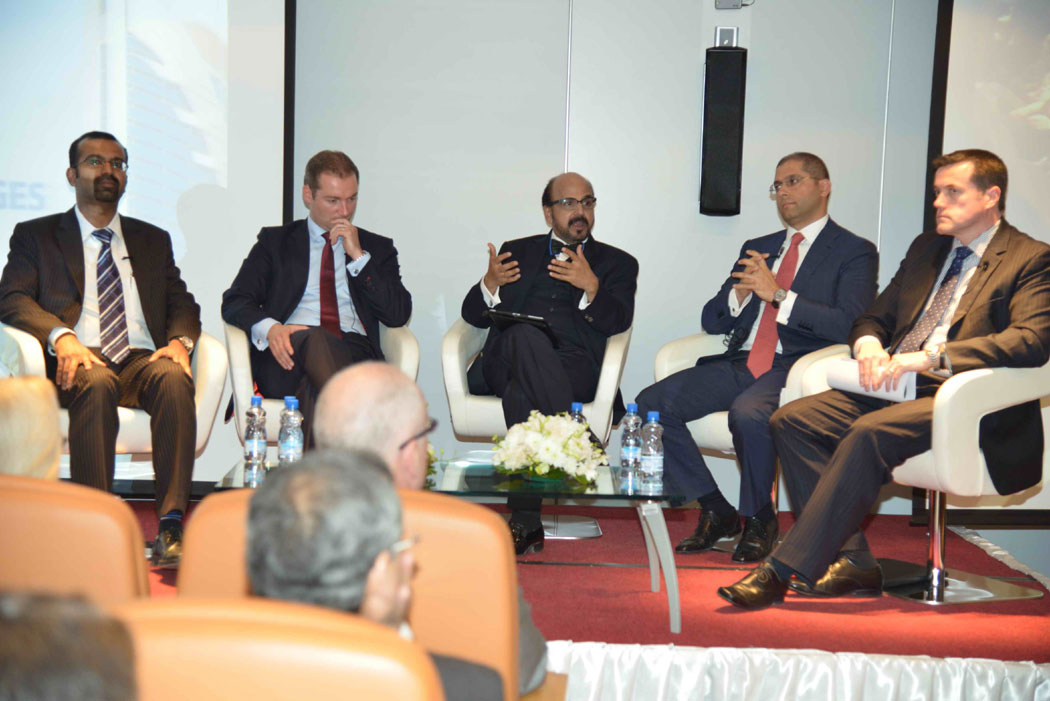 Dr. R. Seetharaman, Doha Bank Group CEO with the guest speakers during the panel discussion.
Dr. R.Seetharaman gave insight on Contract financing trends in Qatar. He said "Qatar's Budget 2014-15 has planned QR75.6bn on infrastructure development for FIFA world cup. Project work is also expected to commence in 7 stadiums. Projects valued at an estimated QR664bn are anticipated to be implemented during the next five years. Projects worth more than $72bn is expected to be awarded in Qatar in 2014 out of which transport, water and construction are the major sectors which will witness activity. The Qatari contract financing sector has been growing steadily over the past years, CAGR of 27% in 2005-2013 period. Contract lending in Qatar Banking sector surged by more than 40% in 2013."
Dr. R.Seetharaman invited various speakers to the Panel discussion. The speakers include Mr. Vinod Kambrath, Senior Strategic Planning Specialist, Ashgal, Mr. Martin Hughes, Risk Manager, EC Harris, Qatar, Mr. Dani Kabbani, Partner, Eversheds LLP, Mr. Richard Ward, Partner, Eversheds LLP and Mr. James Tebbs, Director, Price Waterhouse Coopers.
Mr. Vinod Kambrath gave insight on various infrastructure programmes in Qatar such as Expressway programme, Local Roads and Drainage Programme, IDRIS and Sharq Crossing. He also highlighted the key challenges faced by Qatar when pursuing infrastructure development.
Mr. Martin Hughes spoke on "Project risk management and contract management". He highlighted the importance of risk management in projects, the need to understand risk and its role in contract management. He also gave insights on common project risks faced in contracts. He also explained the key project risks in the near future and the possible mitigations for the same.
Mr. Dani Kabbani spoke on "Challenges of the Qatar legal Landscape and the influx of foreign investors". He explained the meaning of influx of foreign investors and provided insights on the legal systems and structures for doing business in Qatar. He highlighted the restrictions in Qatar for Foreign investment and the laws to further attract foreign investors. He mentioned the implications in sectors in Qatar such as Real estate, Public works and Banking on account of foreign investors.
Mr. Richard Ward spoke on "Effective dispute management and its importance to contract financing". He explained various disputes and key generic problems from such disputes. He gave insights on issues out of control, reasons for delay in resolution and the costs of disputes.
Mr. James Tebbs spoke on "Dispute resolution – the forensic accountant's perspective". He highlighted the major experts in a dispute and the role of forensic accountant. He explained the role of expert witness, pitfalls generally observed and the lessons to be learnt from accountants.
The panel discussion was followed by a Question and Answer session on various matters which arose based on Panel discussion and concluded with a dinner.