Qatar is the Land of Opportunities
The US-Qatar Business Council hosted a luncheon on 21st May 2012 at the Willard InterContinental in Washington, DC. The event featured Dr. R. Seetharaman, Doha Bank's Chief Executive Officer who attended this luncheon the day after being conferred with an honorary doctorate from Washington College in recognition of his impressive contributions to the banking industry. Dr. R.Seetharaman, Doha Bank Group CEO, spoke on "Qatar Land of opportunities." The event was well attended by various members of the US- Qatar Business Council, key industry players and Business professionals.
Introduced by Maggie Salem of Qatar Foundation International Dr. R.Seetharaman highlighted the global trends which contributed to the new world order.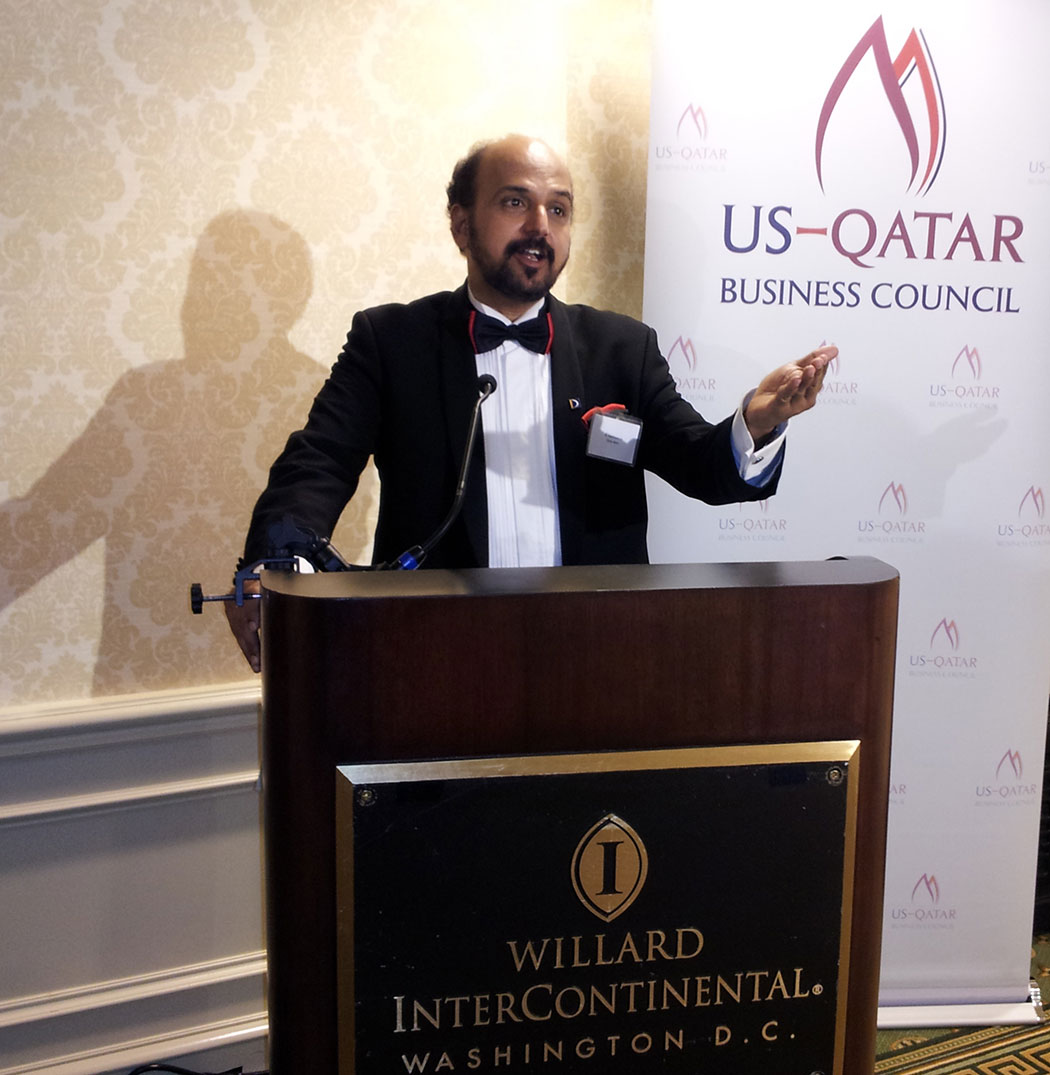 He said "The Changes emerging in business and technology is creating a new competitive landscape which should better value to clients, reduce excess capacity, reduce processing costs and have flexibility to manage change. The need for change arises from interlinked financial markets, regulatory realignment, technology and consumerism. The new world order involves change in regulatory architecture, business is more customer focused and information centric , huge debts in advanced economies, social media, volatile financial markets and emerging economies continuing to drive Global growth"
Dr. R.Seetharaman also gave his outlook on Global economy and GCC Economies. He said "Global economic growth is expected to drop in 2012 when compared to 2011.Global recovery will depend on performance in the 2nd half of 2012 which is contingent on Euro crisis. Growth in Emerging Economies also slowed in 2012.Middle east and North Africa outlook for 2012 improved in 2012 due to higher oil prices and recovery from Libya. The GCC GDP at current prices is expected to grow up by 11% beyond $1.5 trillion in 2012 mainly due to higher oil prices."
Dr. R.Seetharaman highlighted the vision leadership of Qatar and Qatar economic outlook. He said "Qatar's National Vision 2030 (QNV2030) builds on a society that promotes justice, benevolence and equality. The 4 pillars of QNV 2030 are human development, social development, economic development & environmental development. Qatar plan's to create a knowledge-based economy, which was a crucial initiative. Qatar economy is expected to grow by 6% in 2012. In 2012 and beyond growth will depend on non- hydrocarbon economy. Qatar's 2011-12 budget gave higher thrust on education, healthcare and infrastructure. It is expected that Qatar's 2012-13 budget will be based on higher oil price than 2011-12 and can support infrastructure development."
Dr. R.Seetharaman gave insights on Qatar National Development Strategy. He said "The National development strategy 2011-16 will balance challenges of Qatar's National vision 2030.Aggregate GDP growth in 2012-2016 is expected to average to 6.9%, out of which Hydrocarbon GDP growth is by 4.4% and Non- Hydrocarbon GDP by 9.1%. Overall fiscal position is expected to healthy with surplus of 5.7% of GDP by 2016.Services are major driver. By 2016 service sector could account for 40% of total output up from 36% in 2009.During 2011-2016, total gross domestic investment might be about QR820bn out of which Central government (public) investment QR347bn, Private hydrocarbon sector – QR 84bn and Private non-hydrocarbon sector – QR 389bn"
Dr. R.Seetharaman highlighted the key developments in hydrocarbon sector and in financial markets in Qatar. He said "Centrica, the owner of British Gas, signed a deal in February 2011 with Qatar gas, to buy 2.4mn tonnes of LNG a year. The Golden Pass terminal in US was formally inaugurated in April 2011 which will be a major outlet for Qatar. Qatar Gas has supplied additional 4 million tonnes of LNG to Japan after the recent earthquake. Qatar gas has achieved a milestone by seeing all its four mega liquefaction trains attaining 100% production capacity.
Qatar Exchange (QE) introduced delivery-versus-Payment (DvP) in May 2011 which will enhance post –trade processing services and increase confidence for international investors. Qatar Exchange has introduced a number of new equity indices to supplement the existing QE Index in April 2012 and has also started treasury bill trading w.e.f Jan 2012"
Dr. R.Seetharaman highlighted the opportunities in infrastructure in Qatar and other key developments. He said "Major projects are planned for Qatar's infrastructural development in anticipation of FIFA 2022. Some of the major projects in Qatar include New Doha Port and Barwa City. Qatar ranks 14th globally in Global Competitiveness Report 2011-12.Qatar is also expected to have a full-fledged Boeing facility".
Dr. R.Seetharaman highlighted the bilateral trends between US and GCC. He said" The total trade between GCC and US has increased from 71.1 Billion for 2010 to 97.5Billion for 2011.The increase in bilateral trade was noted across all GCC countries except Bahrain. The exports from all GCC countries have picked up in 2011 over 2010 which could be due to higher oil price. Also in the 1st quarter of 2012 trade between GCC- US was US$30.8 Billion as against US$ 19.8 B in the 1st quarter of 2011 mainly from Saudi Arabia, Kuwait, UAE and Qatar. The GCC- Qatar trade has exceeded $4 B for y.e 2011 and has exceeded $1B for q.e 2012 and has shown an increasing trend in recent times.US investment in Qatar is expected to exceed $8B and is mainly in oil and gas sector. Qatar Science and Technology Park (QSTP) was opened in March 2011 in which chevron invest up to $20m for solar test facility."
In his concluding remarks Dr. R. Seetharaman said "Qatar has strong fundamentals, a visionary leadership and discipline in long-term planning. Various ratings show very high degree of economic optimism. A warm and friendly investment climate also prevails. Qatar's economic diversification is also expected to happen which will contribute to economic growth and provide bilateral opportunities between Qatar and other countries. Qatar is an attractive destination for foreign businesses and hence Qatar is the land of opportunities"