Car Loan Calculator
Are you a Qatari or an Expatriate?

Tell us your monthly salary in QAR

*

(Basic & Social Allowance)

Is your salary sent to Doha Bank?
Do you have a credit card or a loan already?

What are your current monthly loan instalments?

What is the total limit on your credit card/s?

What is your monthly rent in QAR?
Your Car Loan Calculator explained
One of Doha Bank's newest financial tools is ready not only to help you find out how much you can borrow but also to help you build a car loan that is specific to your particular needs, eligibility and affordability.
How will our car payment calculator tool help you?
It will help you quickly discover:
The maximum you can borrow from us depending on your residency status, salary and existing loan or credit card commitments.
A prediction of your exact monthly loan payments depending on the amount you wish to borrow and the term or the tenure of your car loan. It will do the same job as an *EMI calculator for your vehicle finance. Note: EMI = Equated Monthly Instalments
Doha Bank's lowest interest rate for your car loan. After you have entered your figures, the next vehicle loan calculator page will show you both flat rates of interest and the equivalent reducing rate of interest for added transparency and comparability.
How to change the car loan calculation to suit your intended vehicle purchase. On the next page you can amend the loan amount, add a higher down payment if you wish and reduce the term of your car loan to pay it down faster. The monthly loan instalment automatically adjusts whenever you add in a new figure
Your car loan calculation can be infinitely variable as you tailor the numbers around your preferences. Here's an example of what the next page could look like: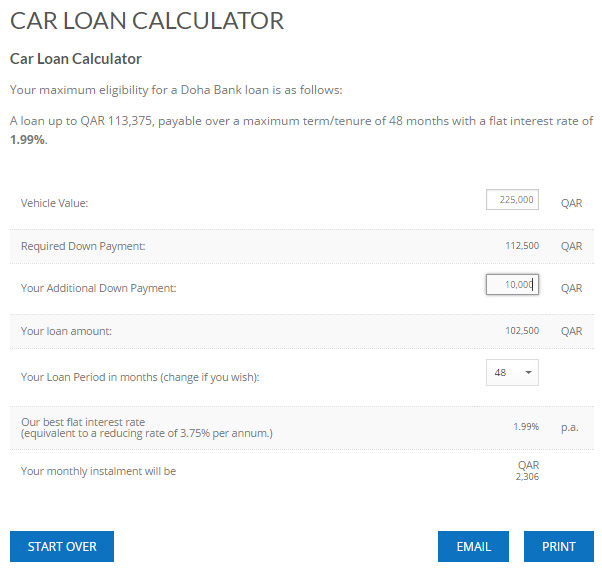 We finance brand new cars and pre-owned (used) cars
A car loan can be set up for you on the following basis:
Your new car finance can be repaid over 6 years or less for Qataris and 4 years or less for expatriates.
Used or pre-owned vehicles can be financed over the following periods (tenure):

a loan term of up to 4 years for cars less than 2 years old or…
a loan term of up to 3 years for vehicles aged between 2 to 4 years.

Your age is also a factor when we consider granting a Doha Bank auto loan. So long as you fall between these age bands, we can consider your application (subject to status and other lending criteria):

Qatari nationals: 18 – 65 years
Expatriates: 21 – 60 years
Additional Benefits of a Doha Bank car loan
These complimentary additional services are provided to all approved car finance borrowers

Free 24-hour Roadside Assistance service for 1 year,
A pre-approved Credit Card,
A pre-approved Instant Personal Loan for any additional purchase expenses.
Use the auto loan calculator opposite now. It relates to any cars you wish to purchase in Qatar. Then apply online and we'll call you right away so we can get you motoring.
Disclaimer
This calculator tool is made available so that you can decide how much you can safely afford to borrow and repay before you apply. We do not guarantee that it will suit every situation and individual circumstance. The amounts mentioned are for indicative purposes only. The final agreed loan amount, tenure/term and interest rate will depend upon the supporting documents that you provide us to support your loan application. Any agreement to provide loan monies is at Doha Bank's sole discretion.