First Ever Shopping Co-Branded Credit Card launched in Qatar
Doha Bank in partnership with LULU hypermarkets Group, the leading hypermarket & department store chain in the GCC, launched today the LULU DOHA BANK MasterCard credit card. This rewarding, value packed credit card is a first for Qatar, and marks the latest innovative payment solution from Doha Bank.
The unveiling of the credit card took place at a gala event hosted by LULU at the Marriot Hotel in Doha.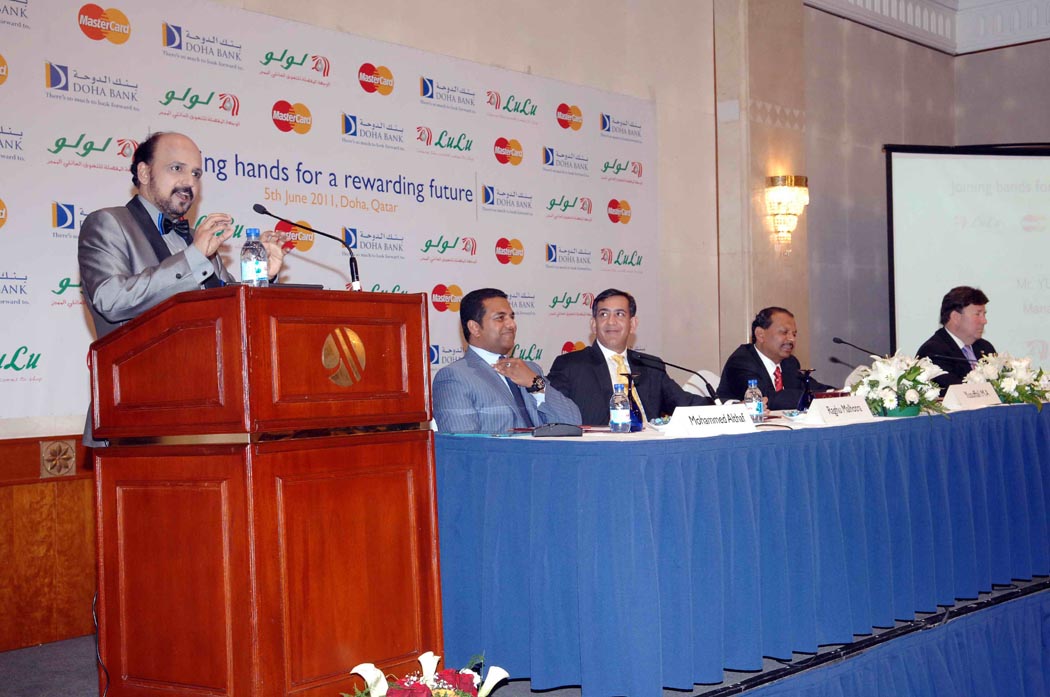 The card features and benefits were jointly revealed to VIP's, honored guests, members of the press and staff from both entities by Mr. R. Seetharaman, Doha Bank Group CEO, Mr. Yusuffali MA, Managing Director of Lulu Hypermarket Group, and Mr. Raghu Malhotra, General Manager, Middle East, MasterCard Worldwide. Several VIP's at the event were also ceremoniously handed over their LULU DOHA BANK MASTERCARD card so that they could indulge in a rewarding shopping experience straightaway.
The LULU Doha Bank MasterCard card is a unique payment solution that provides customers with a simpler, safer and easier way to enjoy shopping. With this card, customers are in good hands every time they shop either in Qatar or away on holiday.
All cards applied for in the first year are FREE-FOR-LIFE.
Understanding customer's appreciation for a good bargain the Lulu Doha Bank MasterCard card rewards shoppers generously with a 5% savings on all purchases made at Lulu stores and 1% savings elsewhere. These savings are earned by way of shopping Points. Customers earn 1 Point for every QR 1 spent on all transactions performed at Lulu outlets in Qatar and 1 Point for every QR 5 spent for all other transactions, purchases , as well as, cash withdrawals, in Qatar and around the world. All points earned can be redeemed at all LULU stores in QATAR to enjoy free shopping for groceries, electronics, home appliances, cosmetics, clothing or any other item desired from LULU. This is undoubtedly the most rewarding shopping credit card in town, as all purchases at LULU enable customers to enjoy a 5% savings on their weekly shopping bill. Shopping at LULU now becomes a weekly celebration.
In order to commemorate the union of Doha Bank and LULU Hypermarket via this venture, it was also announced that as an introductory offer, all customers will enjoy a 10% money back offer by way of shopping points each time they shop at LULU stores in Qatar until 31 August 2011. An additional reason for customers to celebrate.
In addition to online access to the card account, worldwide acceptance, and a variety of insurance coverage, your Doha Bank Lulu MasterCard makes it much easier to travel in style. The card gives cardholders complimentary access to airport lounges in Dubai, (UAE) Cairo (Egypt), Kuwait and Jeddah, Riyadh and Dammam in Saudi Arabia.
Commenting on the New LULU Doha Bank MasterCard card, R. Seetharaman, Doha Bank Group Chief Executive Officer said: "Doha Bank has always prided itself on being an innovative bank. We pioneered FREE FOR LIFE CARDS and an INSTANT LOYALTY programme and while this card has both key features, we have also gone a step ahead to guarantee customers a savings each time they shop at LULU, elsewhere in QATAR or anywhere around the world. With the launch of this card, we have kept our commitment to remain the most preferred card issuer in the country ensuring that customers can now enjoy added savings on their shopping, each time they shop at LULU stores in Qatar. We are proud to partner the EMKE group on this card launch which assures the co-brand cardholders of substantial value throughout the year."
Speaking at the launch, Mr. Yusuffali MA, Managing Director of Lulu Hypermarkets group said: "LULU is extremely excited to partner with Doha Bank for the launch of Qatar's first ever co-branded shopping credit card. We look forward to facing the future with this rewarding partnership both for our entities and our mutual customers. We believe that the world comes to shop at LULU and with Doha Bank's support we are confident of making the world so much more rewarding for our customers."
He went on to add: "Our relationship with Doha Bank is sealed with this, the first of many joint initiatives in Qatar, and one that we hope to extend to the rest of the GCC region as well."
"Our co-brand MasterCard card programs have evolved in order to meet the changing needs of various organizations and business and their customers," said Mr. Malhotra, General Manager, Middle East, MasterCard Worldwide. "MasterCard is a critical link for businesses and cardholders worldwide and this collaboration with Doha Bank and Lulu is an example of how MasterCard works with businesses to develop secure, convenient and rewarding payment solutions that add real value for cardholders. MasterCard is very pleased to offer cardholders in Qatar an innovative program that combines shopping benefits, with the convenience of using a MasterCard credit card locally and globally."
In addition to the amazing card features and benefits, customers can also look forward to year round offers, sales, cash backs and discounts at LULU. There will be an exciting offer for customers 365 days of the year with this card – every day will be a reason to celebrate shopping.
To apply for a LULU DOHA BANK MasterCard credit card, simply type LULU through SMS on your mobile phone and send it to 92610 or visit any DOHA BANK BRANCH or LULU HYPERMARKET to apply.
More information is available at www.dohabank.com.qa or via calling Hello Doha on 4445 6000 or visiting any LULU Hypermarket.