Doha Bank Wins The Bizz 2012 – World Business Leader Award
Doha Bank, a prime and progressive bank in Qatar, has won the prestigious The Bizz 2012 – World Business leader award from World Confederation of Businesses. Dr. R Seetharaman, CEO of Doha Bank group, received the award at a glittering ceremony held on 16th September 2012 at the Sharq village Hotel in Doha – Qatar, attended by business leaders, bankers, academics and policy makers. This award was presented to Doha Bank for its corporate achievement, Innovation, Corporate Social Responsibility, Quality Commitment and Excellence.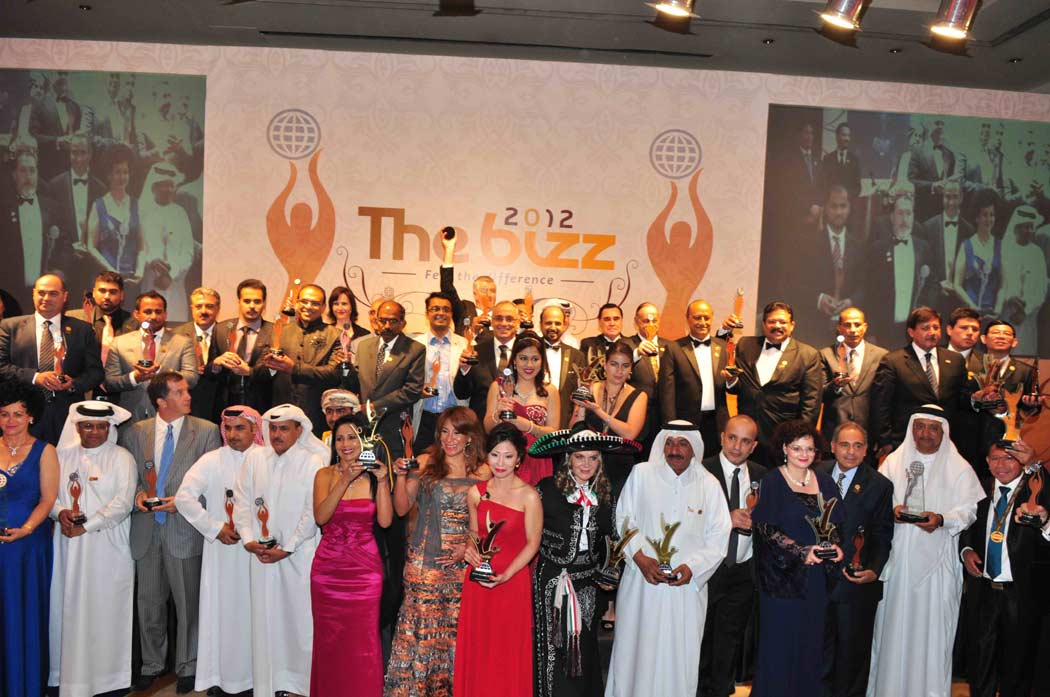 For their visionary Leadership and continual mentoring H.E. Sh. Fahad Bin Mohammad Bin Jabor Al Thani – Chairman, H.E. Sh. Abdul Rehman Bin Mohammad Bin Jabor Al Thani – Managing Director and Mr. Ahmed Abdul Rahman Yousuf Obaidan Fakhroo – Vice Chairman were awarded with Excellence in Business Leadership. During the ceremony, Dr R. Seetharaman was also recognized as World Leader Businessperson for his invaluable contributions.
Dr. Seetharaman, Group CEO of Doha Bank, while expressing his happiness on the receipt of the award said, "The Bank has been completely transformed into a dynamic entity with strong values and customer-centric approach and has sustained the same over a period of time. It has been recognized as a dynamic, modern bank with enduring age-old values. The bank has achieved very impressive results over the last eight years of its history. This has been a combined result of the Board's Vision, management and employee dedication and a tremendous customer response. The Bank has carved a niche for itself in the GCC focused activities by embarking upon a dynamic growth strategy. Doha Banks' signature is sustainable outperformance. We are the trendsetter in introducing many innovative products and services in Qatar. Our consumer-centric technology solutions are credited with being the first introduced in the Qatar market. Performance, Innovation, Quality and Security are the supreme features of Doha Bank and we have been able to demonstrate these parameters consistently. The operating efficiency, asset allocation model, unique international strategy and perfect execution blend together to provide an almost unparalleled force in global banking."
Doha Bank has established a dominant position amongst the Financial Institutions across the Middle East, with 32 state-of-art local branches, 10 e-branches, 13 pay offices and more than 110 ATMs. Doha Bank operations are geographically spread across strategic locations in the State of Qatar and the bank also operates full-fledged branches in the Dubai and Kuwait, and has representative offices in Turkey, Japan, Singapore, China, Abu Dhabi-UAE, South Korea, UK and Germany encompassing a robust and strategic network of correspondent banking relationships.
International rating agencies, Moody's, Standard & Poor's, Capital Intelligence and Fitch Ratings, have reaffirmed the ratings and assigned a stable outlook for Doha Bank, owing to its consistently strong financial fundamentals, asset quality, and strong liquidity position. Doha Bank has been applauded by renowned financial sector analysts for its pioneering initiatives and its leadership role in taking Financial Services experience in the Middle Eastern region to new heights.
Dr. Seetharaman concluded "It is indeed heartening to note that Doha Bank is now a respected brand not just locally but also internationally. Only a consistent performance will ensure that we remain as the best performing Bank and I am sure we as a team will excel and stay ahead of competition."