Doha: 5 July , 2015 – Qatar Development Bank announced today that Abdulaziz Bin Nasser Al Khalifa, CEO of Qatar Development Bank (QDB) and Dr. R. Seetharaman, CEO of Doha Bank, on Sunday signed a new Al Dhameen programme portfolio agreement sponsored by QDB, enabling further expansion of SME financing in Qatar.
With QR100m portfolio, the new product "Al Dhameen portfolio" aim to facilitating and speeding up the approvals to guaranty the value of the funding provided by the partner bank to small and medium enterprises lacking sufficient guarantees. QDB has prepared a special portfolio guide that describes the terms, conditions, highest international standards, due diligence, credit monitoring, applications and guidelines development, to help Doha Bank to take the necessary decisions without referring to the QDB. Developing the program content took nearly two years of close cooperation between QDB and partner banks to cater to all needs and increase transparency.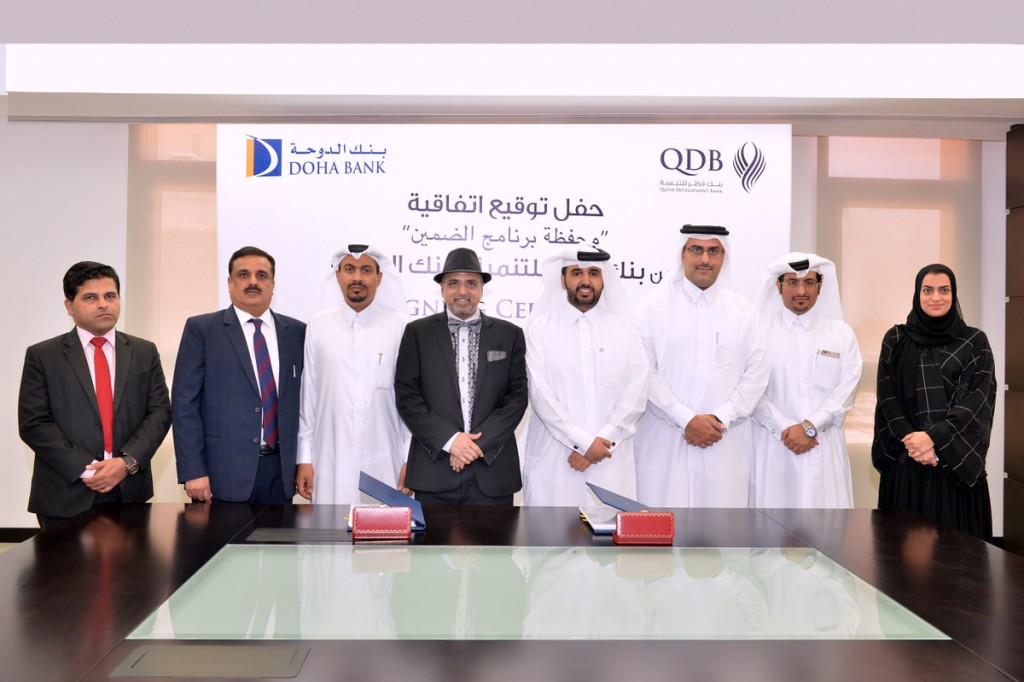 On this occasion, Mr. Abdulaziz Bin Nasser Al Khalifa, CEO of QDB said: "Al Dhameen program is a primarily aims at ensuring that Qatari SMEs are capable of overcoming obstacles, guarantees and short credit history. It also facilitates financing procedures some of the most important sectors such as industry, education, healthcare, and added-value services. The program is mainly targeting companies and start-ups, and we are delighted with this partnership with Doha Bank, which asserts that all banks operating in Qatar to support and develop the SMEs sector, diversifying the private sector and build a knowledge-based economy."
Dr. R. Seetharaman, CEO of Doha Bank: "This ceremony underlines Doha Bank's role as a frontrunner in supporting SMEs in Qatar which has been acknowledged and well received by all concerned. We appreciate the critical role played by QDB in promoting SMEs in Qatar through the launch of 'Al-Dhameen' program. QDB is further augmenting that role by launching the 'Portfolio Risk' offering which will further benefit the SME sector. The ' Portfolio Risk ' will be provided for sectors such as Manufacturing, Health Care, Education and Tourism. SME entities with a revenue turnover less than or equal to QAR 30 million will be eligible for this program. The 'Portfolio risk' offering will help to reduce the turnaround time by trimming down the processing cycle. This also allows Doha Bank to retain its leadership position in Qatar by providing a quick financing solution to new and existing SMEs.The SME businesses are greatly helping Qatar's diversification story by playing an active role in the vast infrastructure development currently taking place in Qatar."
SMEs can benefit from the new program by visiting their nearest Doha Bank branch and inquiring about applications in accordance with the QDB program.
Qatar Development Bank is committed to working to advance the economic ambitions of Qatar's National Vision 2030, ensuring Qatari SMEs are partners in and beneficiaries of the country's remarkable economic journey and growth.
In enhancing and improving the Al-Dhameen program, QDB relied on the survey of partner banks and all concerned parties to expand the base of beneficiaries and allow the partner banks to determine the appropriate small and medium enterprises to be financed and to fund them more flexibly. Al-Dhameen program continued its distinguished contribution to the enhancement and diversification of the national economy and achieved the highest rates since it was launched in 2010 as the bank agreed to provide bank guarantees estimated at more than QR 573 million for more than 212 small and medium enterprises. QR 363 million of these guarantees were cashed.
About Qatar Development Bank (QDB)
Qatar Development Bank (QDB) was established in 1997 as the Qatar Industrial Development Bank, a 100% government-owned developmental organisation. Its primary aim was to develop investments within local industries, thereby accelerating growth and economic diversification in Qatar through support for private sector. Between 1997 and 2005, the bank expanded its portfolio, diversifying from its industrial base to include support and guidance for a range of non-industrial sectors identified as key to the development of Qatar. Shortly afterwards, the bank revisited its mission statement to reflect the successful completion of its new strategic objective and changed its name to Qatar Development Bank. The State of Qatar, QDB's sole shareholder, increased the bank's capital from 200 million to 10 billion riyals in 2008. Since that time, and reflecting the expansion of its mission and financial assets, QDB has launched a considerable number of strategic initiatives and programs, all designed to directly contribute to the economic growth and development of Qatar.
QDB's strategy is entirely in line with Qatar National Vision 2030. It is focused on promoting and facilitating the growth of the private sector in Qatar within key economic channels. In turn, this support will enable the development of long term, sustainable social and economic benefits across the economy.
Aside from offering financial support, Qatar Development Bank is tasked with promoting entrepreneurship in the private sector, facilitating the development of key economic sectors through the provision of capital and advisory services. QDB has also launched several initiatives, including Al Dhameen program, an indirect loan facility to guarantee commercial bank loans to private sector companies, in collaboration with other banks and financial institutions.
QDB's export arm "Tasdeer" program was created to develop and promote exports from Qatar, providing export credit guarantees in addition to financial products and solutions designed to mitigate the risks imposed on local exporters. The bank also provides consulting services in business development to help entrepreneurs to prepare for business. This will include feasibility studies, the conduct of market research and the selection of appropriate techniques; fundamentally helping to develop the capabilities of SME owners to enhance and refine their skills in the market and establish strong ties with financial and non-financial support entities.