Doha Bank recently hosted a bowling and billiards tournament for its staff members and their families as part of its year-round employee engagement program.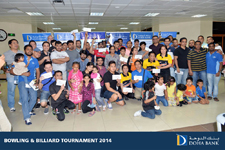 The annual bowling and billiards tournament provided an engaging platform for the bank's staff to come together and enjoy a fun day out as more than 500 men, women and children – representing employees from various business divisions and at all levels of the organization as well as their families –gathered at the Qatar Bowling Center for an evening of competition and camaraderie.
"The tournament presented a wonderful opportunity for employees and their families to bond with each other while enjoying a range of sporting activities and entertainment," said Mr. A.Rahman Ali A A Al-Mohammed, Head of Human Resources Doha Bank. "Sport is a universally understood language that brings people closer together, and as a relationship-driven organization that embeds teamwork and shared responsibility into its daily work culture, Doha Bank is keen to create platforms that not only nurture a spirit of collaboration amongst our employees but promote their physical health and well-being and build a sense of belonging."
The arena came alive with energy and excitement as 50 bowling teams – each comprising players in uniquely designed uniforms – put their best foot forward in their quest for the top spot after Mr. Neil Buckley, Head of Technology and Operations, set the ball rolling with the ceremonial first roll. Following the group stages, it was left to the eight quarterfinalists to battle it out for the top prize and, at the end of a thrilling contest, Team Paara Dige – comprising Manjula Sandanayake, Thivanka Samithadasa, Susantha Bandara and Dinesh Jayalath – emerged the tournament's winners, with Team "We're On Strike" finishing runner-up and Team Avengers claiming the third spot.
The pool tournament attracted equally enthusiastic participation in both the singles and doubles format, with over 70 staff putting their cueing skills to test. Abhishek Srivastava, from Direct Sales Unit came out the winner in the singles while Mohamed Shaker Mohideen and M. Azeem from Central Market branch bagged top honors in the doubles event.
Kids present at the venue were not to miss out on the fun as they had their own mini tournament where over 30 cash prizes were up for grabs.