Doha Bank Honored with the "Best Corporate Responsibility Programme in the Middle East" Award
Doha Bank, one of the leading banks in Qatar and an active proponent of Green Banking in the region, has received the "Best Corporate Responsibility Programme in the Middle East" award by EMEA finance Magazine. The EMEA Bank Awards are conferred after a careful scrutiny of various sustainable financial and economic parameters that are vital in assessing the performance and productivity levels of the Financial Institution.
Dr. R. Seetharaman said "Doha Bank is proud to be recognized as the leading corporate citizen in Middle East for the success of its Corporate Responsibility Programme and overall corporate citizenship initiatives. Doha Bank's vision in corporate social responsibility is to support the vision of His Highness the Emir for the State of Qatar to build a sustainable framework for the future based on the core pillars of economic, social, human and environmental development.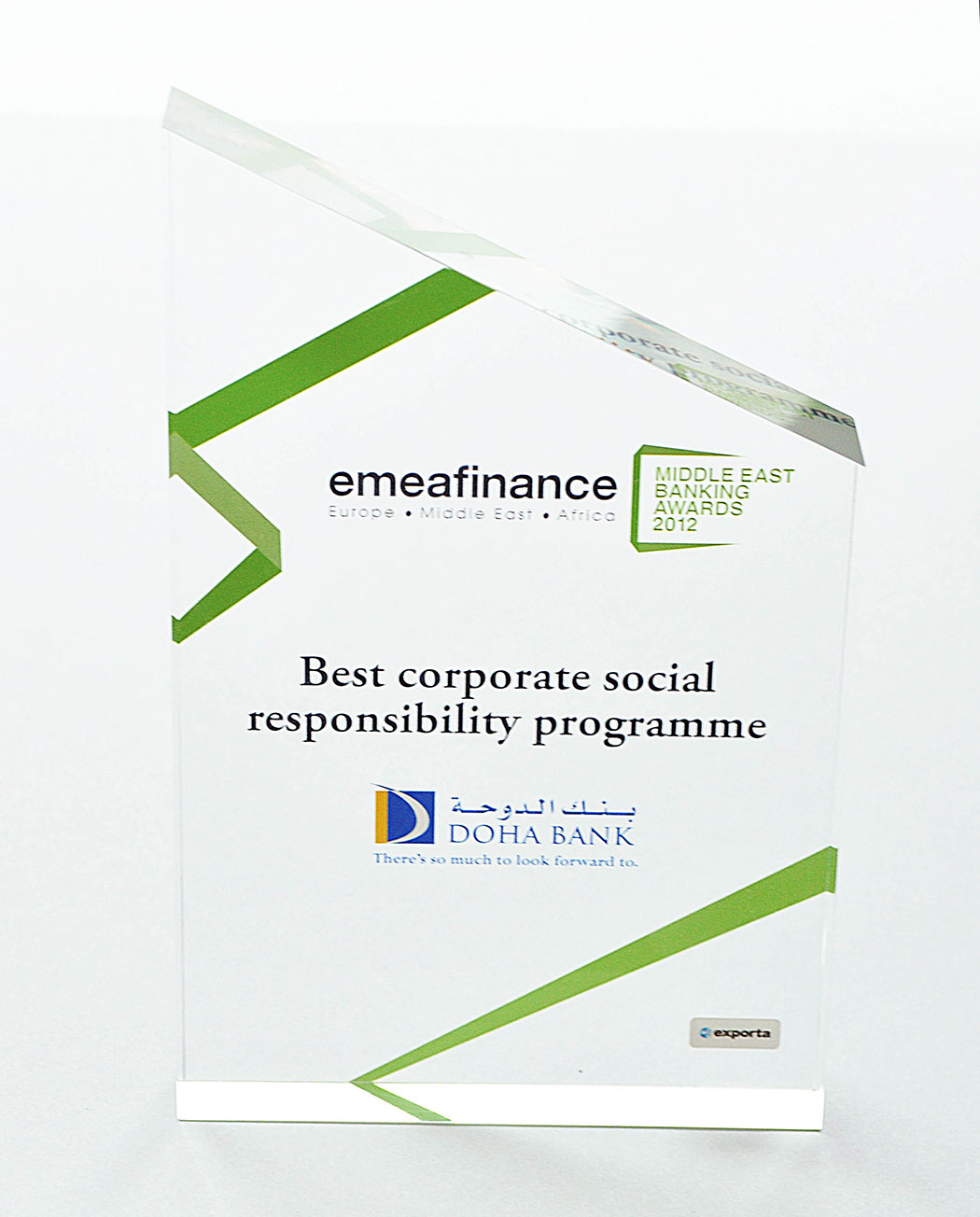 These are also core tenants of Doha Bank's sustainability philosophy and drive the Bank's activities, not because it is something that every corporate entity should do, but because these are core beliefs that Doha Bank fully embodies.
Doha Bank was the first bank in Qatar to adopt a position of advocating and practicing Green Banking, which is one of the core business philosophies that will support sustainability into the future. Doha Bank is also active in supporting the youth of the nation from a human development perspective and has supported and conducted numerous programmes to help develop indigenous talent whilst providing on-going opportunities for development and growth. Doha Bank also supports social integration across various areas of society and actively participates in key economic events including IMF summits, keynote sessions, and other major local and global programmes, acting as advocates for Qatar's financial sector growth and potential," he said.
Doha Bank conducts one of Qatar's leading CSR initiatives – the "ECO-Schools Programme" which works with educational institutions in the country to build awareness of key environmental issues and create action plans that are school-specific to help mitigate the overall impact on the environment. These include programmes that aim to conserve resources, as well as actively reuse and recycle materials in clever ways. Most importantly, this programme awards schools for their diligence and builds awareness and promotes initiatives at the grassroots of society, amongst the youth as well as among school staff and administrators.
Doha Bank also hosts the annual Al Dana Green run to generate awareness of environmental preservation and protecting the natural environment. The Green Run has become one of the Bank's leading programmes and welcomes thousands of men, women and children, as well as members of various socio-cultural groups who actively participate in the event each year.
Among the other programs Doha Bank has actively participated in are the State of Qatar's "Green Qatar Clean Qatar" campaign, Public Awareness Campaigns through the Bank's channels, and key community engagement programs such as tree planting, beach clean-ups and recycling activities.The Bank strives to encourage both the development and diffusion of environment-friendly technologies and also supports a proactive approach to meeting environmental challenges.
Doha Bank demonstrates this philosophy at its own headquarters which are designed to Green standards with motion sensing and light, air conditioning and ambient systems that are optimized to reduce the consumption of energy and thereby significantly cutting the Bank's operational carbon footprint.