Doha Bank bestowed Best Performing Trade Correspondent – 2012 award from Deutsche Bank
On 30 April 2013 at Doha Bank's West Bay Head Office, Doha Bank's executive management was presented with the award for Best Performing Trade Correspondent – 2012, by Deutsche Bank representative Mr. Usman Mansoor, Vice President, Trade Sales – GCC & Yemen, Global Transaction Banking.
Doha Bank Group CEO, Dr. R. Seetharaman, said on receipt of the award, "We are honored to receive this recognition from Deutsche Bank. This award serves as confirmation that we are providing innovative solutions in line with market requirements and we look forward to continue developing offerings aligned with our clients' evolving trade finance needs. This award further solidifies Doha Bank's position as one of the leading trade finance banks in the GCC region, with our more than 34 years local expertise collaborating with correspondent institutions to ensure seamless handling of trade service transactions.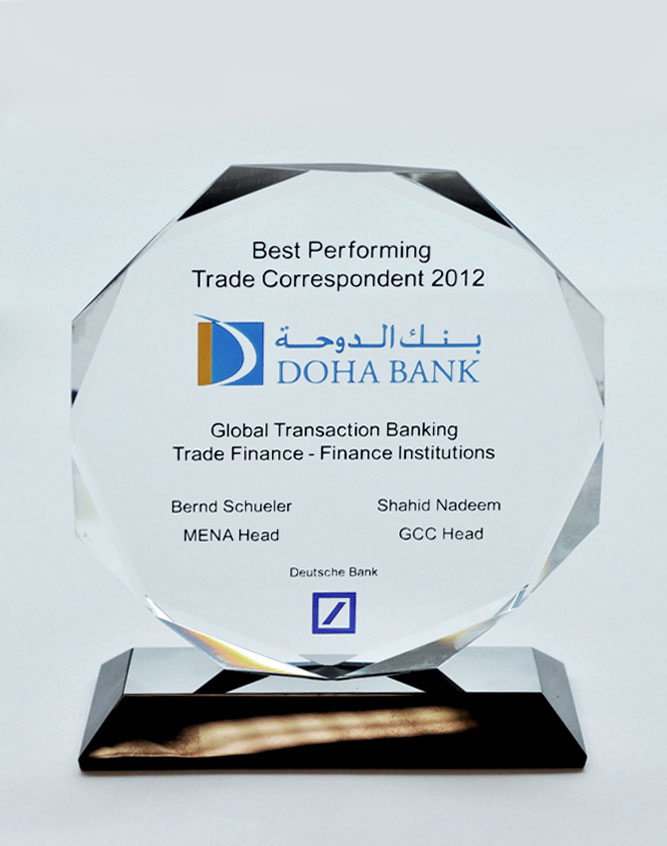 As emerging markets become increasingly important to the global economy, correspondent banking relationship networks have proven increasingly valuable in facilitating global trade."
Chris Fellner, Head of International Banking, Doha Bank, added that, "receiving this award from Deutsche Bank is a great motivator for our team and will serve to further our commitment to provide excellent service, not only to our correspondent network, but also to benefit our trade finance customers in Qatar, Kuwait, and UAE."
Doha Bank is one of the leading providers of trade finance services, operating in local, Middle East and international markets with a thorough understanding of local languages as well as major international languages, local market expertise, global presence and advanced technology to support clients' trade finance requirements while ensuring the soundness off all component banks within the corresponding banking network.