ADDITIONAL BENEFITS
---
Chip and PIN:
Chip and PIN (Personal Identification Number) is a smart card payment system that provides an extra level of security on your credit card. You will be required to enter your PIN to complete your transactions. Your PIN is important because it limits the risk of fraud on your card and helps give you extra peace of mind.
Your PIN will be received along with your credit card. However; if your wish to change your PIN you can visit any of our nearest ATMs. In case of lost PIN all you need to do is contact our 24/7 helpline at +974 4445 6655 or your branch and you can collect your PIN from your desired branch or card centre within two business days.
This will be the typical scenario when paying for your purchases:
Hand over your AL RIYADA Visa Infinite Credit Card to the cashier.
The cashier will insert your credit card into the card reader and key in the payment amount.
You will be handed the card reader for you to verify the amount.
Enter your 4-digit PIN. Please keep the keypad covered so that no one can see your PIN.
Once your PIN has been accepted, a transaction slip will be printed.
Your credit card will be handed back to you along with transaction slip once your transaction is complete.
What if the merchant does not have a Chip and PIN device?
While most merchants are already equipped with Chip-and-PIN-enabled devices, there are still some who have yet to upgrade. When you encounter such merchants, your AL RIYADA Visa Infinite Credit Card's magnetic strip will be swiped, and you will be asked for your signature. Please note, that more and more merchants are being equipped to have Point of Sale terminals that allow credit cards to read the information on the chip located on the front of the credit card.
What if someone asks me for my PIN?
Kindly remember that Doha Bank (or any of our representatives) will never ask for your PIN, no matter what the situation may be. Your PIN is very valuable, and we strongly recommend no one but you know it. Also know that writing it down could increase the risk of someone finding out what your PIN is. Should you ever believe that someone other than you might know your PIN, please contact us immediately.
Won't people be able to see me enter my PIN on the PIN device?
Please take every precaution possible to ensure no one sees the digits you enter on the PIN device. Some of our recommendations to prevent other people seeing your PIN being inputted include shielding the number pad with your other hand and tilting the device away from any person around you. We cannot stress enough how important it is to ensure that only you know your PIN.
Will I be held liable if my Chip and PIN card is lost or stolen?
In the unfortunate event that your credit card is lost or stolen, please notify us immediately by calling +974 4445 6655. You will not be liable for any transaction that is made after you report your card lost or stolen to us. The SMS notifications on your AL RIYADA Visa Infinite Credit Card, is to keep you informed of any activities on your credit card(s).
3D Secure when paying online!
The 3D Secure™ feature offers enhanced security when you pay online with your AL RIYADA Visa Infinite Credit Card on websites. This ensures that only you as the credit cardholder will be able to complete the online transaction.
How does it work?
Shop online at any secure website.
Enter your AL RIYADA Visa Infinite Credit Card details during checkout.
After entering card details, you will be forwarded to 3D secure page (if merchant is enrolled for 3D secure programme).
A One Time Password (OTP) will be sent to your mobile number and email ID (as registered in our records).
Enter the OTP to complete the transaction.
If you have not received OTP on your bank registered mobile number or email ID, please contact our 24/7 customer service number +974 4445 6655.
Contactless Payment
Your Doha Bank AL RIYADA Visa Infinite Credit Card is contactless enabled. So, just Shop, Tap & Go! You can now use your contactless-enabled card wherever you see the universal contactless symbol for an easier checkout. It's even faster than making a cash payment!
To activate contactless functionality on your card you must ensure that the first transaction on your card is on a POS or an ATM machine.
To learn more click here.
Cash Advance
Use your card to withdraw cash up to your allowed cash limit from any ATM around the world with the Visa logo, and never worry about not having cash when you need it again.
Supplementary Cards
If you would like to share the benefits and privileges that you enjoy on your Doha Bank AL RIYADA Visa Infinite Credit Card with your loved ones, simply apply for a supplementary card.
Easy and simple application process – call us to apply or simply apply online at www.dohabank.com.
Quick processing and delivery – with minimal documentation required.
Supplementary cards for your immediate family members.
Convenient – as the primary cardholder, you have the option to set separate credit limits from your basic limit on your supplementary card(s).
To apply for your supplementary card(s) and for more information, please call us on our 24/7 helpline at +974 4445 6655 if you are inside or outside Qatar.
SMS Alerts
Complimentary SMS Alerts for all your credit card transactions.
e-Statements
Register for e-Statements by placing your request on DBank Online and receive your statements electronically and free of charge, as well as doing your part for the environment by going paper-free!
Protect your credit card
Do not share your PIN with anyone.
Report lost / stolen / damaged cards immediately.
Only use your card online with secure websites.
Never give your card information when in doubt.
When you receive a new card, destroy your old card by cutting it in half.
Make sure that you sign any receipts (if required) with the same signature on the back of your card.
Report any suspicious activity to us immediately.
Retain all transaction receipts until they are reflected in your statement.
Caring for your credit card
Do not bend your card or leave it exposed to sunlight.
Do not scratch the magnetic strip.
Do not place two cards with magnetic strips together.
Do not leave your card on or near any electronic gadget.
Before you start using your Visa Infinite credit card
Your credit card will need to be activated once you are in receipt of your card. If you wish to use your credit card immediately, whether for physical use locally or internationally or online once you receive it, please call us on +974 4445 6655 and we will activate your card on the spot.
Read the 'Credit Card Terms and Conditions' on the credit card application form before signing and the online 'Schedule of charges' by visiting www.dohabank.com
Sign your credit card with a ballpoint pen. The signature panel is found on the back of your credit card. Signing your credit card will prevent any possible misuse.
To reissue your PIN, please log on to your DBank Online and place a service request and the PIN will be sent to your branch or card center as per your request.
Keep a photocopy of the front and back of your credit card(s) for your records, once you have signed on the signature panel.
Ensure you do not keep your PIN with your credit card and do not disclose your PIN to anyone.
Ensure your personal information is always up to date and please keep us informed of any changes in your particulars, such as address, telephone number, or email.
Quote your 16-digit credit card account number in all correspondence and payments.
Know your AL RIYADA Visa Infinite Credit Card
Front: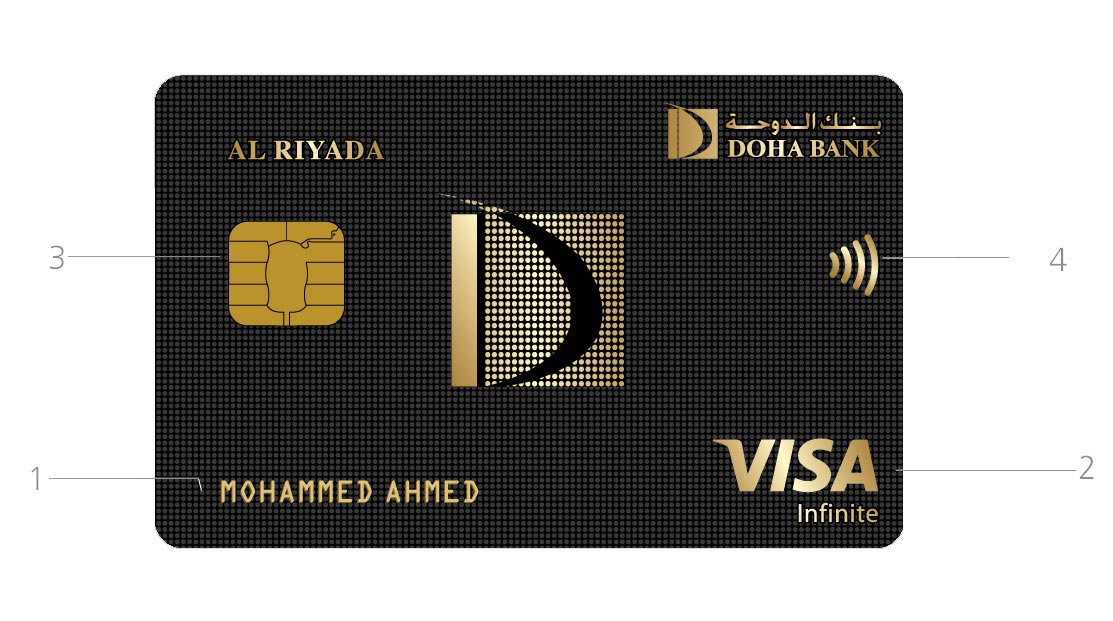 Your name should be accurately embossed on your credit card, for you are the only person authorised to use it, if your name is embossed incorrectly please contact your Relationship Manager immediately.
Your credit card accepted at all ATMs and retail stores around the world that display the Visa logo.
Your smart Chip holds vital data and is designed to make transactions even more secure.
The contactless logo on your card means that your card is enabled for contactless payment. Always tap the Point of Sale terminal with the reverse side of the card when making a contactless transaction.
Back: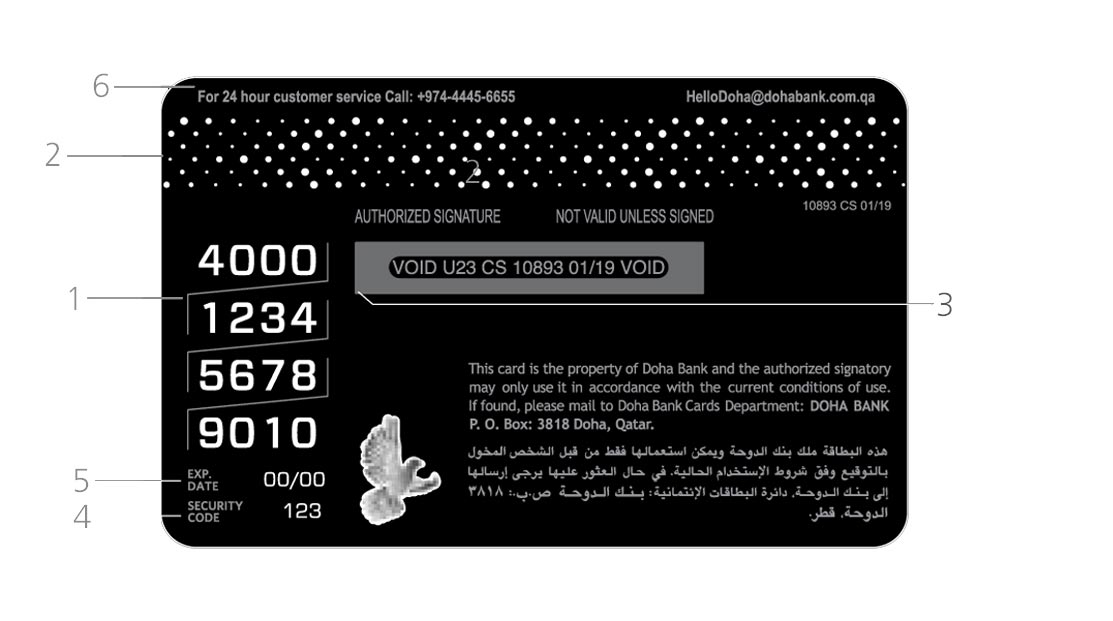 Your 16 Digit credit card number will be mentioned here.
Your magnetic strip contains coded information for the security of your credit card.
Your signature panel is the grey area above. Please ensure you sign it before you start using your card.
Your unique credit card verification value is embossed here. This
3-Digit verification value is required to make online payments. Please do not share this number with anyone.
Your credit card expiry date embossed here as "VALID THRU" shows the period up to which you may use your credit card. This extends up to the last day of the month shown. You will be sent a renewed card before this date. Please do not use the old card once your new card has been activated.
Your key contact number for all credit card related inquiries.
Note:
Doha Bank's retail, commercial and corporate products are granted at our sole discretion and are subject to the Bank's terms, conditions and acceptance.