Al Dana Green Run – 2020
Join us for the 15th Al Dana Green Run
---
Date: February 15th 2020
Time: Starting 1pm
Race: 3pm
Distance: 3Km
Location: Aspire Zone Park
Families, running enthusiasts and go green supporters across Qatar can look forward to getting their running shoes on this February as the much-anticipated Al Dana Green Run hosted by Doha Bank returns for its 15th edition with a bigger and better line-up of race categories. Taking place on 15 February 2020 at Aspire Zone Park, the event activities start at 1 pm and the 3Km race is scheduled at 3 pm; the annual run gathers men, women, children and families from around the country who will put their best foot forward for a cleaner, greener tomorrow.
The Al Dana Green Run is hosted every year by Doha Bank to build participation and awareness on environmental protection among people in Qatar. A widely attended community event, the annual run attracts participation from people of all age groups, with more than 6000 people taking part in the event last year. Al Dana Green Run is the biggest Corporate Social Responsibility (CSR) event undertaken by Doha Bank, and derives its name from Al Dana Savings Scheme, the bank's flagship savings account scheme.
Doha Bank is keen on organizing the Al Dana race this year to emphasize solidarity and loyalty to achieve Qatar Vision 2030 and its future goals while cherishing Qatar's national identity. This year's activities include competitions for public participation, all of which come in an authentic heritage form.
The 3Km race has been redesigned with the addition of new features designed to meet the needs of the masses, including families and others. The race offers the public the opportunity to enjoy a wide range of cultural offerings and is a source of inspiration for building an authentic culture of innovation in Qatar.
Participants can register for the green run by going online at www.dohabankmarathon.com for free registration. To celebrate 15 years of the green run, Doha Bank has put together an enhanced agenda this year that will include as many as 9 race categories catering to different age groups and social segments. Huge number of prizes will be given out to the top finishers in each category.
Categories for the 15th Al Dana Green Run include:
Male – Above 35
Male – 18-35
Male – Below 18
Female – Above 35
Female – 18-35
Female – Below 18
Special Needs
Professional Athletes – Male
Professional Athletes – Female
Al Dana Green Run Participants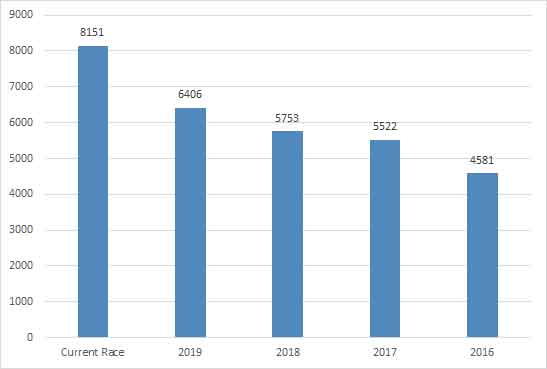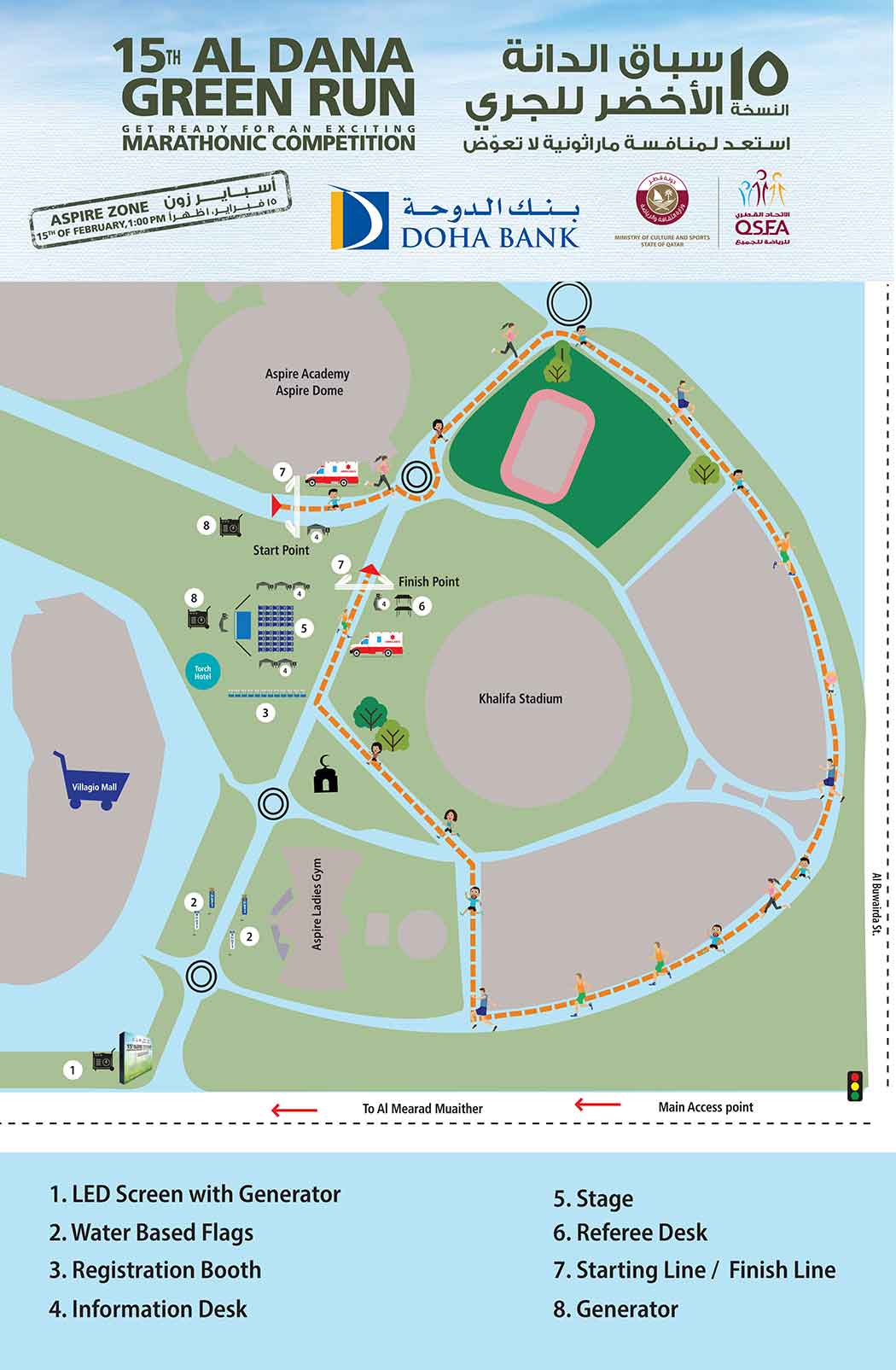 Al Dana Green Run Participants – Current Race
| Category | No. of Participants |
| --- | --- |
| Male – Above 35 | 2131 |
| Male – 18-35 | 3209 |
| Male – Below 18 | 842 |
| Female – Above 35 | 639 |
| Female – 18-35 | 763 |
| Female – Below 18 | 330 |
| Special Needs | 130 |
| Professional Athletes – Male | 64 |
| Professional Athletes – Female | 10 |
| Doha Bank Staff | 33 |
| Total Participants | 8151 |
Al Dana Green Run Participants – 2019
| Category | No. of Participants |
| --- | --- |
| Female Above 18 | 1314 |
| Female – Below 18 | 861 |
| Male – Above 18 | 2604 |
| Male – Below 18 | 851 |
| Professional Athletes | 414 |
| Special Needs | 362 |
| Total Participants | 6406 |
Al Dana Green Run Participants – 2018
| Category | No. of Participants |
| --- | --- |
| Below 18 – Male | 540 |
| 18 till 35 – Male | 1902 |
| Above 35 – Male | 1640 |
| Below 18 – Female | 346 |
| 18 till 35 – Female | 602 |
| Above 35 – Female | 514 |
| Professional Athletes – Male | 36 |
| Professional Athletes – Female | 2 |
| Special Needs | 171 |
| Total Participants | 5753 |
Al Dana Green Run Participants – 2017
| Category | No. of Participants |
| --- | --- |
| Below 18 – Male | 487 |
| 18 till 35 – Male | 1906 |
| Above 35 – Male | 1525 |
| Below 18 – Female | 321 |
| 18 till 35 – Female | 656 |
| Above 35 – Female | 586 |
| Professional Athletes (men and women) | 23 |
| Special Needs | 18 |
| Total Participants | 5522 |
Al Dana Green Run Participants – 2016
| Category | No. of Participants |
| --- | --- |
| Families | 440 |
| Below 18 – Male | 412 |
| 18 till 35 – Male | 1521 |
| Above 35 – Male | 983 |
| Heavy Weight | 35 |
| Below 18 – Female | 332 |
| 18 till 35 – Female | 490 |
| Above 35 – Female | 319 |
| Professional Athletes (men and women) | 39 |
| Special Needs | 10 |
| Total Participants | 4581 |